Star Wars is a well-known and beloved franchise that has not only spawned numerous movies, but also a wide variety of video games. The first Star Wars game, "Star Wars: The Empire Strikes Back," was released in 1983 and was based on the 1980 movie of the same name.
This game was one of the earliest releases in the Star Wars video game franchise, which has continued to produce new games for nearly 40 years. Some of the platforms that have seen the release of Star Wars games include personal computers, consoles, and mobile devices.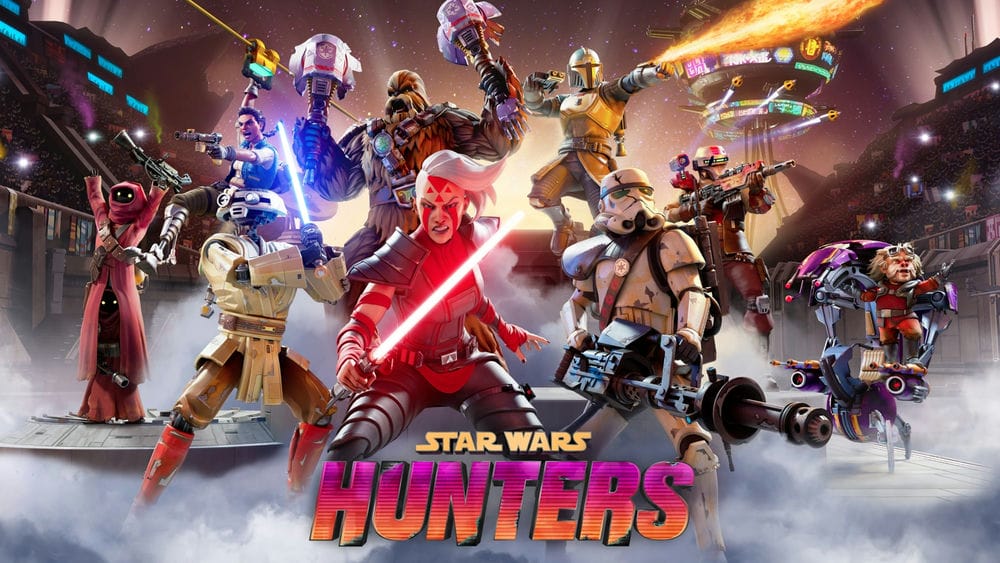 The upcoming game "Star Wars: Hunters" is set to be released in 2023. If you want to see a comprehensive list of all the Star Wars games that have been released, check out the list provided in this article.
All Star Wars Games Ranked with Release Year for Each
Star Wars: The Empire Strikes Back (1982)
Star Wars: Return of the Jedi: Death Star Battle (1983)
Star Wars: Return of the Jedi (1984)
The Empire Strikes Back (1985)
Star Wars (1987)
Droids: Escape from Aaron (1988)
Star Wars: Attack on the Death Star (1991)
The Empire Strikes Back (1991)
Super Star Wars (1992)
Star Wars: X-Wing + Imperial Pursuit (expansion) + B-Wing (expansion) (1993)
Star Wars: Rebel Assault (1993)
Super Star Wars: The Empire Strikes Back (1993)
Star Wars Arcade (1993)
Star Wars Chess (1993)
Star Wars: X-Wing: Collector's CD-ROM (1994)
Super Star Wars: Return of the Jedi (1994)
Star Wars: TIE Fighter + Defender of the Empire (expansion) + Enemy of the Empire (expansion) (1994)
The LucasArts Archives Vol. I (1995)
The LucasArts Macintosh Archives Vol. I (1995)
Star Wars: Dark Forces (1995)
Star Wars: Rebel Assault II: The Hidden Empire  (1995)
The LucasArts Archives Vol. II: Star Wars Collection (1996)
Star Wars: Shadows of the Empire (1996)
Star Wars: Jedi Knight: Dark Forces II (1997)
Star Wars: Masters of Teräs Käsi (1997)
Monopoly Star Wars (1997)
Star Wars: X-Wing vs. TIE Fighter + Balance of Power (expansion) (1997)
The LucasArts Archives Vol. III (1997)
Star Wars: Yoda Stories (1997)
Star Wars: Jedi Knight: Mysteries of the Sith (1998)
Star Wars: Rebellion (1998)
Star Wars: DroidWorks (1998)
Star Wars: Rogue Squadron (1998)
Star Wars: X-Wing Collector Series (1998)
The LucasArts Archives Vol. IV: Star Wars Collection II (1998)
Star Wars Trilogy Arcade (1998)
Star Wars: X-Wing Alliance (1999)
Star Wars: Episode I: The Phantom Menace (1999)
Star Wars Episode I: Racer (1999)
Star Wars Episode I: The Gungan Frontier (1999)
Star Wars: Yoda's Challenge Activity Center (1999)
Star Wars: Pit Droids (1999)
Star Wars: Anakin's Speedway (2000)
Star Wars: Episode I Jedi Power Battles (2000)
Star Wars: Force Commander (2000)
Star Wars: Early Learning Activity Center (2000)
Star Wars Math: Jabba's Game Galaxy (2000)
Star Wars: Jar Jar's Journey Adventure Book (2000)
Star Wars: Demolition (2000)
Star Wars: Episode I Obi-Wan's Adventures (2000)
Star Wars: Episode I: Battle for Naboo (2000)
Star Wars: Starfighter (2001)
Star Wars: Starfighter: Special Edition (2001)
Star Wars: Super Bombad Racing (2001)
Star Wars: Galactic Battlegrounds (2001)
Star Wars: Rogue Squadron II: Rogue Leader (2001)
Star Wars: Obi-Wan (2001)
Star Wars: Bounty Hunter (2002)
Star Wars: Galactic Battlegrounds: Clone Campaigns (2002)
Star Wars: Attack of the Clones (2002)
Star Wars: The Clone Wars (2002)
Star Wars: Racer Revenge (2002)
Star Wars: Jedi Starfighter (2002)
Star Wars: The New Droid Army (2002)
Star Wars Galaxies: An Empire Divided (2003)
Star Wars: Knights of the Old Republic (2003)
Star Wars: Jedi Knight: Jedi Academy (2003)
Star Wars: Rogue Squadron III: Rebel Strike (2003)
Star Wars: Flight of the Falcon (2003)
Star Wars: Battlefront (2004)
Star Wars Trilogy: Apprentice of the Force (2004)
Star Wars Galaxies: Jump to Lightspeed (2004)
Star Wars: Knights of the Old Republic II —The Sith Lords (2004)
Star Wars: Republic Commando (2005)
LEGO Star Wars: The Video Game (2005)
Star Wars Episode III: Revenge of the Sith (2005)
Star Wars Galaxies: Rage of the Wookiees (2005)
Star Wars Galaxies: The Total Experience (2005)
Star Wars: Battle Above Coruscant (2005)
Star Wars: Republic Commando: Order 66 (2005)
Star Wars: Battlefront II (2005)
Star Wars Galaxies: Trials of Obi-Wan (2005)
Star Wars: Battle for the Republic (2005)
Star Wars: Empire at War (2006)
LEGO Star Wars II: The Original Trilogy (2006)
Star Wars: Empire at War: Forces of Corruption (2006)
Star Wars: Grievous Getaway (2006)
Star Wars Galaxies: The Complete Online Adventures (2006)
Star Wars: The Best of PC compilation (2006)
Star Wars: Lethal Alliance (2006)
LEGO Star Wars: The Complete Saga (2007)
Star Wars Battlefront: Renegade Squadron (2007)
Star Wars: The Empire Strikes Back Mobile (2007)
Star Wars: Empire at War: Gold Pack (2007)
Star Wars: The Force Unleashed (2008)
Star Wars: The Clone Wars — Lightsaber Duels (2008)
Star Wars: The Clone Wars — Jedi Alliance (2008)
Star Wars: The Clone Wars: Republic Heroes (2009)
Star Wars: Trench Run (2009)
Star Wars: The Force Unleashed: Ultimate Sith Edition (2009)
Star Wars Battlefront: Elite Squadron (2009)
Star Wars: Clone Wars Adventures (2010)
Star Wars: The Force Unleashed II (2010)
Star Wars Arcade: Falcon Gunner (2010)
LEGO Star Wars III: The Clone Wars (2011)
Star Wars: The Old Republic (2011)
Kinect Star Wars (2012)
Star Wars: Knights of the Old Republic Collection (2012)
Angry Birds Star Wars (2012)
Battle Orders (2012)
Star Wars: Force Collection (2013)
Star Wars Pinball (2013)
Star Wars: The Old Republic — Rise of the Hutt Cartel (2013)
Club Penguin Star Wars Takeover (2013)
Angry Birds Star Wars II (2013)
LEGO Star Wars The Yoda Chronicles (2013)
Star Wars: Tiny Death Star (2013)
LEGO Star Wars: Microfighters (2014)
Star Wars: The Old Republic: Galactic Starfighter (2014)
Star Wars: Assault Team (2014)
Star Wars Journeys: The Phantom Menace (2014)
Star Wars Scene Maker (2014)
Star Wars Rebels: Ghost Raid (2014)
Star Wars: Commander (2014)
LEGO Star Wars The New Yoda Chronicles (2014)
Star Wars Rebels: Rebel Strike (2014)
Star Wars: The Old Republic: Galactic Strongholds (2014)
Star Wars: Galactic Defense (2014)
Star Wars: The Old Republic: Shadow of Revan (2014)
Star Wars Journeys: Beginnings (2014)
Club Penguin Star Wars Rebels Takeover (2015)
Star Wars Rebels: Recon Missions (2015)
Star Wars: Uprising (2015)
Star Wars: The Old Republic: Knights of the Fallen Empire (2015)
Star Wars: Galaxy of Heroes (2015)
Star Wars Battlefront (2015)
Star Wars: Yoda's Jedi Training (2016)
LEGO Star Wars: The Force Awakens (2016)
Star Wars: Trials on Tatooine (2016)
Star Wars Battlefront: Rogue One: X-wing VR Mission (2016)
Star Wars Rebels: Chopper Chase (2016)
Star Wars: The Old Republic: Knights of the Eternal Throne (2016)
Star Wars: Force Arena (2017)
Star Wars: Puzzle Droids (2017)
Star Wars: Rivals (2017)
Star Wars Battlefront II (2017)
LEGO Star Wars: Microfighters II (2017)
Star Wars: The Old Republic: Onslaught (2019)
LEGO Star Wars Battles (2019)
Star Wars Jedi: Fallen Order (2019)
Vader Immortal: A Star Wars VR Series (2019)
Star Wars: Squadrons (2020)
Star Wars: Tales from the Galaxy's Edge (2020)
Star Wars: Starfighter Missions (2020)
Star Wars: Tales from the Galaxy's Edge – Last Call (2021)
LEGO Star Wars: Castaways (2021)
Star Wars: The Old Republic — Legacy of the Sith (2022)
LEGO Star Wars: The Skywalker Saga (2022)
Star Wars: Hunters (2022)