If you use coffee pods, you may have struggled with how to organize them. Some people stuff them in a drawer or leave them in the box they came in, but both of these options can be cluttered and make it hard to choose between different brands or flavors.
A better solution is to use a coffee pod organizer. These organizers are designed to store your coffee pods in an organized, space-saving, and attractive way, so you can easily find what you need for your morning coffee. However, you should take some time to research and choose the right coffee pod organizer for your needs.
Before Buying a Coffee Pod Organizer
Before purchasing a coffee pod organizer, there are a few things to consider:
1- Think about the footprint or storage design:
If you have a lot of counter space, you may want a vertical organizer that takes up a smaller amount of space. If you have limited counter space, a drawer organizer or a magnetized option that can be attached to your fridge might be a better fit.
2- Consider the capacity of the organizer:
Smaller organizers can hold around 20 coffee pods, while larger ones can hold up to 50. If you live alone, a smaller organizer may be sufficient, but if you are purchasing one for an office, a larger capacity may be necessary.
3- Consider the arrangement of the pods:
If you have multiple brands or flavors, you may want an organizer that displays them clearly. If you only use one or two types, a stacked or drawer organizer may work well.
Best Coffee Pod Organizers List
Nifty Solutions Coffee Carousel (35 Pods – Rotating Base)
The Nifty Solutions Coffee Carousel is a stylish and convenient way to store and display your K-Cup coffee pods. The carousel can hold up to 35 pods and features a lazy Susan base that rotates 360 degrees, making it easy to find your desired flavor. The carousel has a modern black powder-coated design that looks great on the kitchen counter, in a dorm room, or in an office coffee bar.
It is a compact size, measuring 13 inches in height and 7 inches in diameter, and takes up minimal space on the counter. It is also a high-quality product that is made to last, resistant to breakage, and easy to clean. The Nifty Solutions Coffee Carousel is a practical and attractive solution for organizing your coffee pods.
Pros:
Constructed of sturdy metal
Pods fit nicely into individual slots
Comparatively affordable
Compact size is suitable for small spaces
Cons:
Metal ball on top is small and smooth, making it hard to turn the carousel
Home-it 42 Keurig K-cup Holder (42 K-Cups – Modern Metal)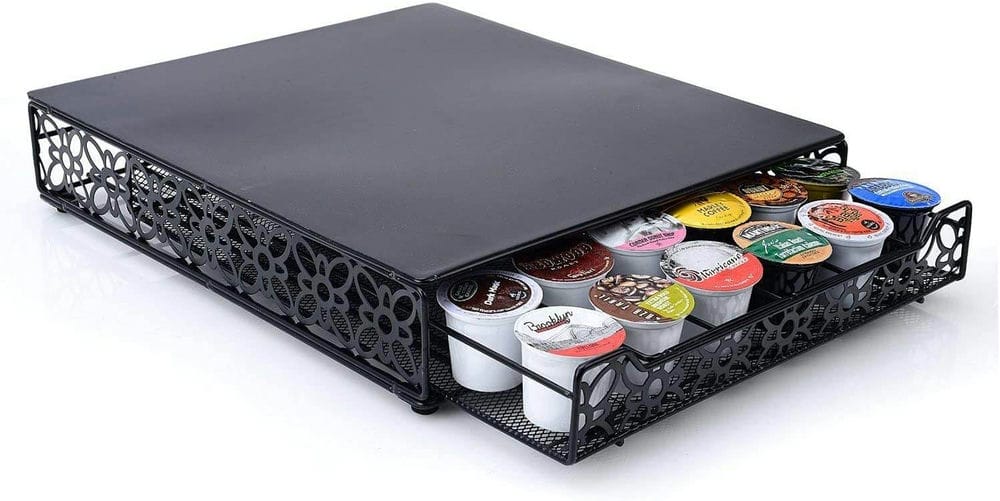 The Home-it 42 Keurig K-cup Holder is a compact and stylish storage solution for your coffee pods. The metal holder fits underneath your coffee brewer, saving valuable counter space. It has an easy-open drawer that can hold up to 42 pods, measuring 13-1/4 inches by 13-1/2 inches by 3-1/8 inches. This holder is suitable for small kitchens or for anyone looking to maximize their space. It has a modern design that will match any kitchen or office decor.
The drawer is designed to support the weight of 42 pods and will not bend under the load. Overall, the Home-it 42 Keurig K-cup Holder is a practical and attractive way to keep your coffee pods organized.
Pros:
Fits under coffee brewer and saves counter space
Attractive design that matches any kitchen or office
Sturdy and durable
Cons:
Top surface may bend under weight of coffee maker
Drawer is not smooth to open and close
DecoBros Crystal Tempered Glass (42 Nespresso Capsules)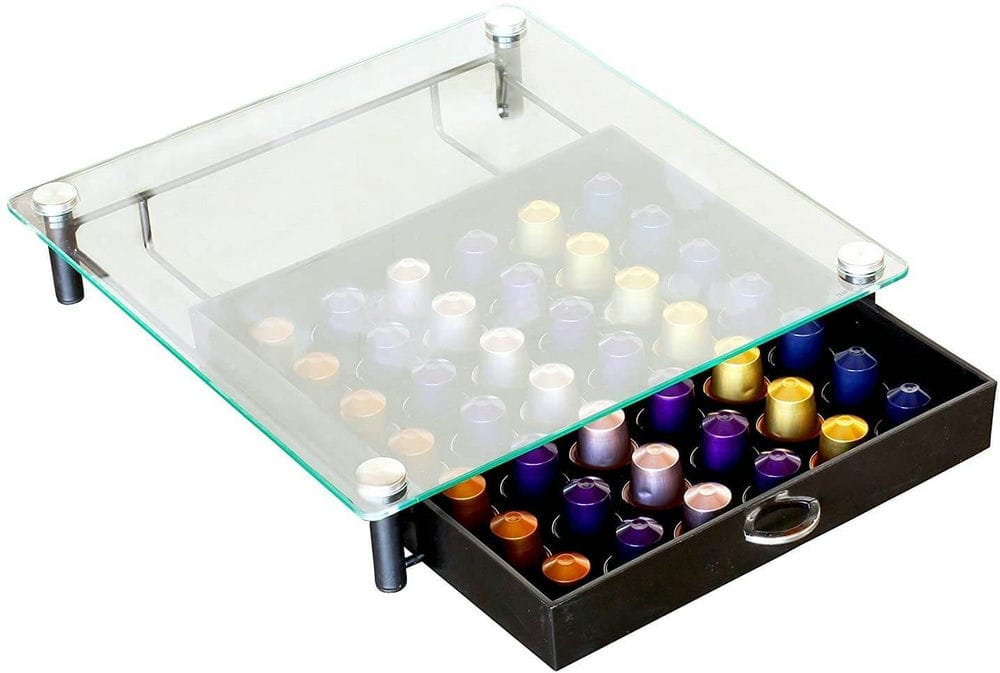 The DecoBros Crystal Tempered Glass pod organizer is a stylish and convenient storage solution for your espresso pods. It is designed to fit under your brewer and hold up to 42 small espresso pods. The organizer has a handle and an easily sliding drawer, making it simple to access your pods. The tempered glass top adds a sleek and modern look to any kitchen.
If you own an espresso machine, this classy and space-saving pod organizer is a must-have. It is specifically designed to hold Nespresso OriginalLine capsules and is compatible with most Nespresso brewers. The dimensions of the organizer are 14.3 inches in length, 13.4 inches in width, and 2.7 inches in height.
Pros:
Compatible with Ninja espresso and coffee barista system
Fits under coffee machine with limited clearance
Makes it easier to access top of machine
Tempered glass is heat resistant
Elevated style and look
Can hold Nespresso machine and milk frother
Sturdy and fully assembled
Aesthetically pleasing and saves space
Cons:
Drawer may not have rails for sturdiness and smooth opening
Mind Reader Mounty Coffee Pod Holder (20 Pods – Wall Mounted)
The Wall-Mount Holder Coffee Pod Dispenser is a convenient way to store and access your coffee pods. It can hold up to 20 pods and can be mounted on the wall or refrigerator to save counter space. The cork board on top allows you to leave notes for loved ones or coworkers. It has an open view design for easy access to your favorite flavors and a dispensing function for quick grabbing.
The dispenser is made of durable plastic and is easy to install with the included adhesive stickers. It also has an open top compartment for refilling when needed. This is a great solution for small offices or families who want to declutter their kitchen counters.
Pros:
Can be mounted on wall or refrigerator
Cork board for notes
Open view for easy access to coffee pods
Dispensing function for quick grabbing
Made of durable plastic
Easy to install with included adhesive stickers
Open top compartment for refilling
Cons:
One rail may be out of place, causing occasional K Cups to fall out
Adhesive tape provided may not stick well
K-Cup Holders Carousel Stand (40 Pods)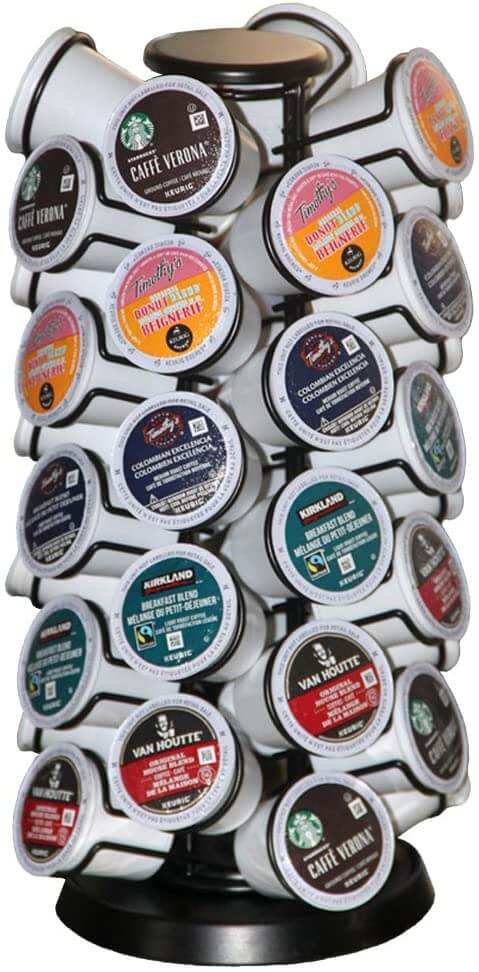 The K-Cup Holders Carousel Stand is a great solution for organizing and displaying your coffee pods. It has a capacity of 40 pods and features a 360 degree rotating base for easy access to any flavor. The compact size and classic black finish make it a stylish and space-saving addition to any kitchen. The deluxe metal construction ensures durability and the stand comes with a 5 year warranty.
It is compatible with any single cup coffee maker and is perfect for use on the countertop next to your Keurig or iCoffee. Please note that coffee pods are not included and this item is only designed to hold K-Cup pods. USPTO Utility and Design Patents Pending.
Pros:
Large capacity of 40 coffee pods
Spinning base allows for easy access to all flavors
Space-saving design
Classic black finish that is compatible with any single cup coffee maker
Deluxe metal construction is sturdy and durable
5 year warranty
Cons:
May have difficulty with the adhesive backing or find the magnets not strong enough to hold the holder securely