Dishwashers have been widely welcomed for their efficiency and time-saving capabilities. However, for optimal operation, they require the use of dishwasher detergents. These tablets are formulated with detergents for cleaning, salt to prevent limescale buildup and a rinsing agent for fast drying.
3-in-1 formulas have replaced the need for three separate products. Choosing the right dishwasher detergent can be challenging, with variations in price, composition and effectiveness.
Our team has created a comparison test to help you choose the best dishwasher detergents of 2023, whether you prioritize eco-friendliness or cost-effectiveness. We have selected ISO 9001:2015 certified management system for comparison procedures.
Understanding Dishwasher Detergents
A dishwasher detergent is a cleaning product that dissolves in a dedicated compartment of the dishwasher, in the form of a small rectangular tablet with various colors that indicate specific functions.
It is the best ally for dishwasher owners, not only for cleaning dishes but also for maintaining the dishwasher's proper functioning and durability. It helps prevent grease and limescale buildup.
The Science of Dishwasher Detergents: How they Work
Dishwasher detergent contain 3 essential elements that are released during specific stages of the wash cycle for optimal cleaning.
The detergent removes grease and food residue, the rinsing agent removes final residue, speeds up drying and improves water runoff on dishes, and the regenerating salt removes limescale, protecting dishes and appliances from long-term damage.
Benefits and Applications of Dishwasher Detergents
Dishwasher detergents are the best option on the market due to their practicality and cost-effectiveness. They combine 3 separate products into one, saving space and reducing maintenance needs. They are easy to use, simply slide into the designated compartment.
Additionally, they are cost-efficient as purchasing the separate products individually can be more expensive.
Different Types of Dishwasher Detergents
1) Detergent Tablets
Designed for long wash cycles and full loads, but may not fully dissolve in short cycles, leading to incomplete cleaning and possible damage to the dishwasher.
2) 3 in 1 Tablets
Containing detergent, rinse aid, and salt, these tablets are practical and economical but may require additional rinse salt in areas with hard water to prevent limescale buildup and damage to the dishwasher.
Testing Methods for Dishwasher Detergents
To conduct our comparative test, we thoroughly examined various reviews and rankings found online. We identified certain patterns that allowed us to establish reliable evaluation criteria.
Efficiency of cleaning:
This is the primary consideration. It is essential that the tablets leave dishes free of grease or stains.
Price:
We took into account the cost of a pack of tablets as well as the number of tablets per pack.
Ease of use:
The packaging, the way in which the detergent tablets are individually wrapped, and the storage location are all factors that influence daily use and were taken into account in our evaluation criteria. Whether they come in cardboard or plastic, are individually wrapped or in dissolvable sachets, these details are crucial in everyday use.
Shine:
Impeccable cleanliness is the bare minimum expected from a dishwasher detergent. Additionally, the shine of dishes after a washing cycle is also an important consideration for consumers. No one wants dull dishes, even if they are spotlessly clean.
Best Dishwasher Detergents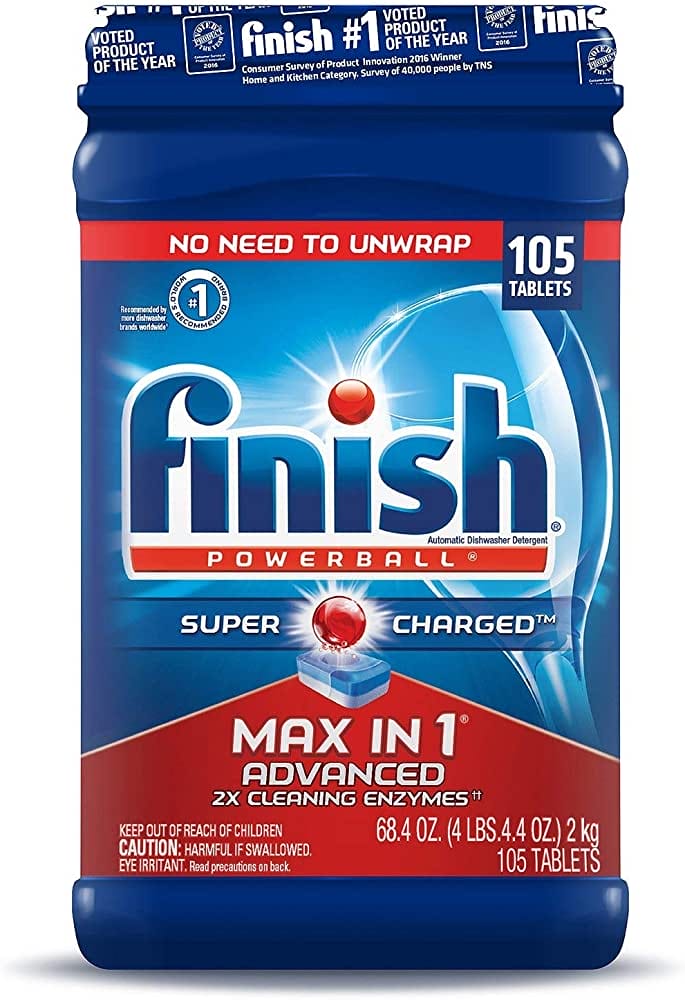 1. Finish Power Ball Max In One Plus (3-in-1)
Finish Power Ball Max In One Plus tablets are a top-rated product among consumers for their effectiveness in removing even the toughest stains. The product's pre-soaking technology works well at low temperatures and its soluble packaging makes it easy and convenient to use without the need for pre-soaking or pre-rinsing.
The plastic packaging preserves the pellets from humidity and the price is extremely attractive. Additionally, Finish is the world's #1 recommended brand by more dishwasher manufacturers worldwide.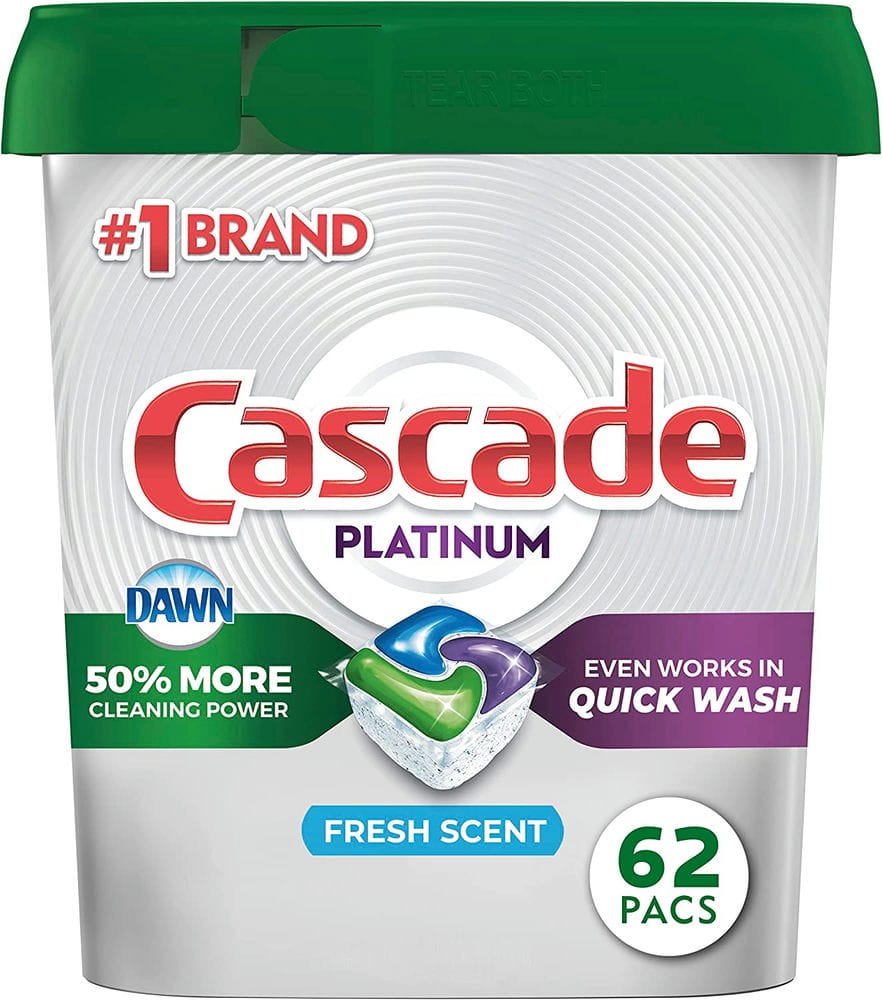 2. Cascade Platinum Pods (3-in-1)
Cascade's ActionPacs save time by eliminating the need for pre-washing dishes, conserving up to 15 gallons of water per load. Formulated with the grease-fighting power of Dawn, they leave your silverware and dishwasher sparkling.
The #1 recommended brand in North America, Cascade's premeasured ActionPacs dissolve quickly and are phosphate-free. No wrapping required.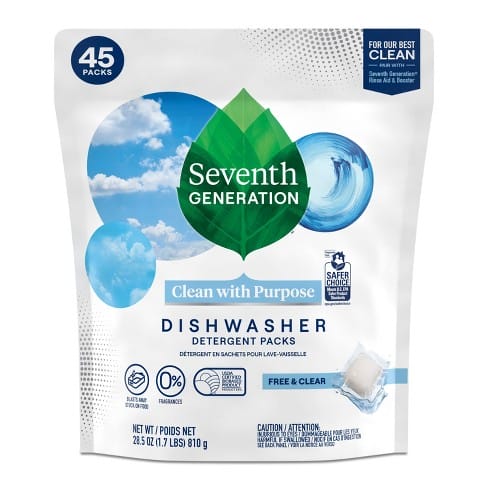 3. Seventh Generation Dishwasher Packs (3-in-1)
Efficiently tackle tough grease and food residue with Seventh Generation's Free & Clear Dishwasher Detergent Packs. Made with an enzyme-rich formula, these packs leave dishes sparkling clean without added fragrances, dyes, phosphates, or chlorine bleach.
The convenient single-dose packs are easy to use, simply toss them into your dishwasher. As a USDA Certified Biobased Product, our dishwasher tabs are 83% biobased. Each pack comes in a resealable pouch for easy storage. Clean dishes and a sustainable future with Seventh Generation.
FAQs about Dishwasher Detergents
Q: Where should I place the washing tablet in my dishwasher?
A: The washing tablet should be placed in the small plastic compartment provided for this purpose, often located inside the door of the device.
Q: My tablet only partially dissolves and leaves residue, what should I do?
A: This often happens during short wash cycles. Try cutting your tablet in half or switching to a different brand that may better fit your device.
Q: Are all dishwasher tablets wrapped in soluble plastic?
A: It's a trend, but some manufacturers still wrap their pellets individually in plastic.
Q: Can I clean my dishwasher using these tablets?
A: Yes, you can run your dishwasher empty with tablets at 60° about once a month.
Q: Can I wash my silverware with dishwasher tablets?
A: Most contain products that are too corrosive for this type of dishware. Avoid using them to clean silverware.
Q: Can I use two different washing tablets for more efficiency?
A: It's not necessary, better to complete the wash with salt or rinse aid.
Q: Are these lozenges effective against tea or coffee stains?
A: Yes, they wash effectively this kind of traces.
Q: Do I need to rinse my dishes before putting them in the machine with this type of tablet?
A: No, the current tablets are powerful enough not to have to pre-rinse.
Q: How long can I store these tablets?
A: Never more than a year, as the effectiveness of the agents that compose them weakens after that.
Q: Is it possible to make dishwasher detergents at home?
A: While it's a popular trend, tests and consumer reviews prove that industrial detergents are unrivaled in their effectiveness.