Electric bikes, or e-bikes, have gained popularity in recent years among commuters and city dwellers due to their convenience and versatility. E-bikes can be a cost-effective transportation option, a way to tackle challenging terrain, or a tool for a rigorous workout on the road. Regardless of your cycling goals, an electric bike can provide an accessible and enjoyable way to get from point A to point B.
When searching for the best electric bike for your needs, it is important to consider your experience level, riding goals, and the local terrain and conditions where you will be using the bike. To help you find the right e-bike, we have compiled a list of the top options in various categories, including mountain, road, and hybrid models.
These e-bikes were selected based on their top-quality components, durability, ease of use, and helpful features.
Electric Bikes Buying Guide
Type
There are several types of electric bikes to choose from, each with its own set of advantages and disadvantages. Commuter bikes are versatile and sturdy, but they tend to be heavier. Cruisers offer a smooth and comfortable ride with cushioned seats and larger tires, but they may not be suitable for long distances due to limited gear options.
Road bikes are lightweight and built for speed, but they can be expensive and may not be comfortable for everyone. Mountain bikes are designed for rugged terrain, but they may not be allowed on all trails. Folding bikes are convenient for small spaces, but they may not have the same smooth ride as larger, sturdier bikes.
Torque
Torque is a measure of the rotational power of an electric bike's motor, which helps to propel you forward as you pedal. Torque is important for the overall performance of the bike, particularly when riding on inclines.
A bike with low torque will require more effort to climb a hill, while a bike with high torque will have more rotational force to assist with climbing. It is important to consider the torque of an electric bike when making a purchasing decision, especially if you plan to ride on hilly terrain.
Motor Placement
Electric bike motors can be placed in one of two locations: hub-drive or mid-drive. Hub-drive motors are located in the rear or front wheel hub and transmit pedal power directly to the wheel. This can give the sensation of being pushed from behind or the handling of a front-wheel drive car, depending on the location of the motor.
Mid-drive motors are located at the bottom bracket and offer a more balanced ride due to the weight being centered on the bike. When choosing an electric bike, it is important to consider the placement of the motor and how it may affect the handling and performance of the bike.
Assist Level
Many electric bikes come with multiple levels of assist, which allow you to adjust the amount of power provided by the motor according to the terrain. Some electric bikes also have the ability to automatically adjust the assist level or conserve battery power based on your riding conditions.
Having multiple levels of assist gives you the flexibility to customize your ride and make the most out of your electric bike.
Best Electric Bikes 2023
TotGuard Electric Bike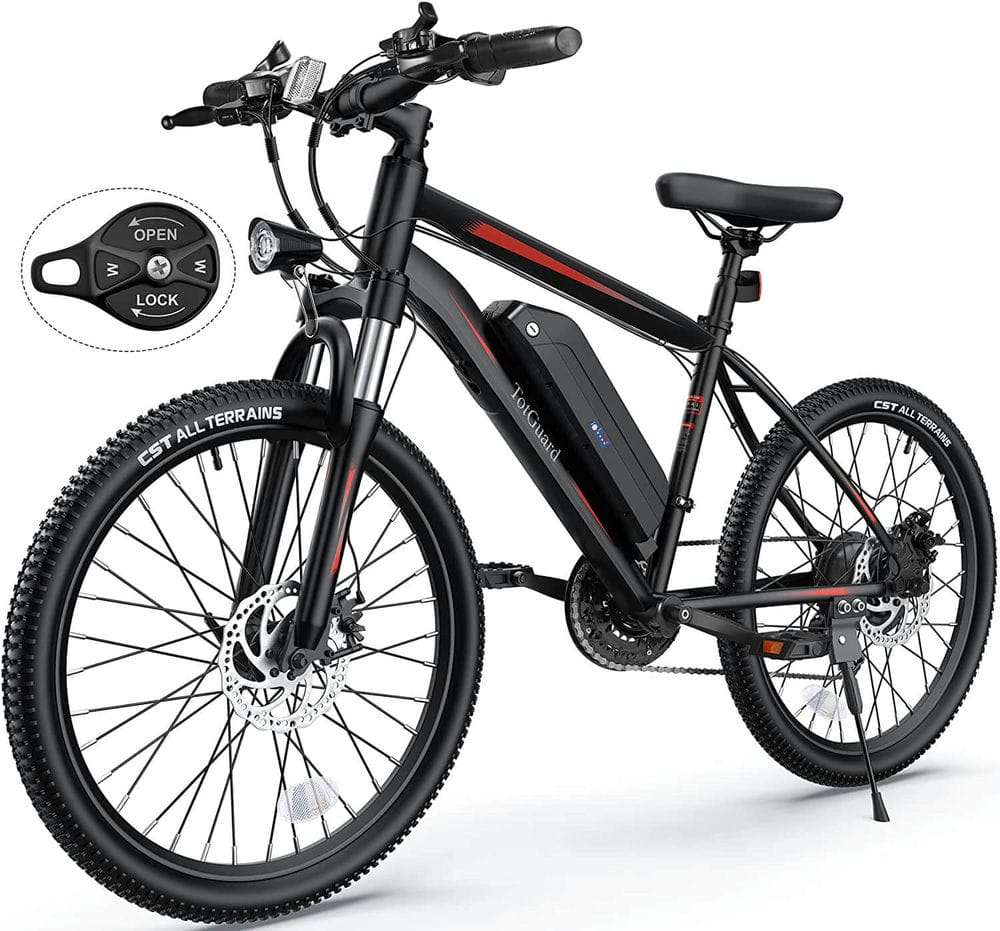 The TotGuard Electric Bike is designed to handle rough roads and steep slopes with a lockable front suspension fork, strong shock absorption, and reliable brakes. It has a powerful 350W high-speed motor and a removable, waterproof battery that can be fully charged in just five hours.
The LCD 3-speed smart meter button allows you to choose the desired level of electric assistance, and the smart LCD display keeps track of your speed, distance, battery level, and more. The bike also has an LED headlight for visibility during night rides. Made with lightweight yet durable aluminum alloy, this electric bike is a reliable choice for any cycling adventure.
21 speeds
Red color
26-inch wheels
Aluminum frame
Front suspension
Digital display
Headlight
Adjustable seat
Pros:
Smooth ride
3 modes: electric, assisted, and manual
21-speed transmission system
Maximum speed of 20MPH
350W high-power motor
36V battery with 20.5 mile range in electric mode and 37.3 mile range in assisted mode
Intuitive digital display
Lockable front suspension
Disc brakes on front and rear wheels
Easy to control horn and headlight
Bright and visible central display
Bright headlight for night rides
Attractive design for youth customers
Good tire grip
Strong build quality
Easy to charge with a charging time of 5 hours
Removable and waterproof battery compartment
Well-packed with easy assembly
1-year manufacturer's warranty
Multiple color options
Affordable price
Cons:
No built-in bike lock
No rear fenders or rack
Reflector instead of brake-operated taillight
Wire near front tire may touch tire on sharp turns
No assembly instructions in manual
Limited seat height adjustment for shorter riders
Pedals may be too small for some riders
No kickstand
No phone holder
Some components not labeled in manual
Battery may not last as long in cold temperatures
Sailnovo Electric Bicycle Sleek & space-saving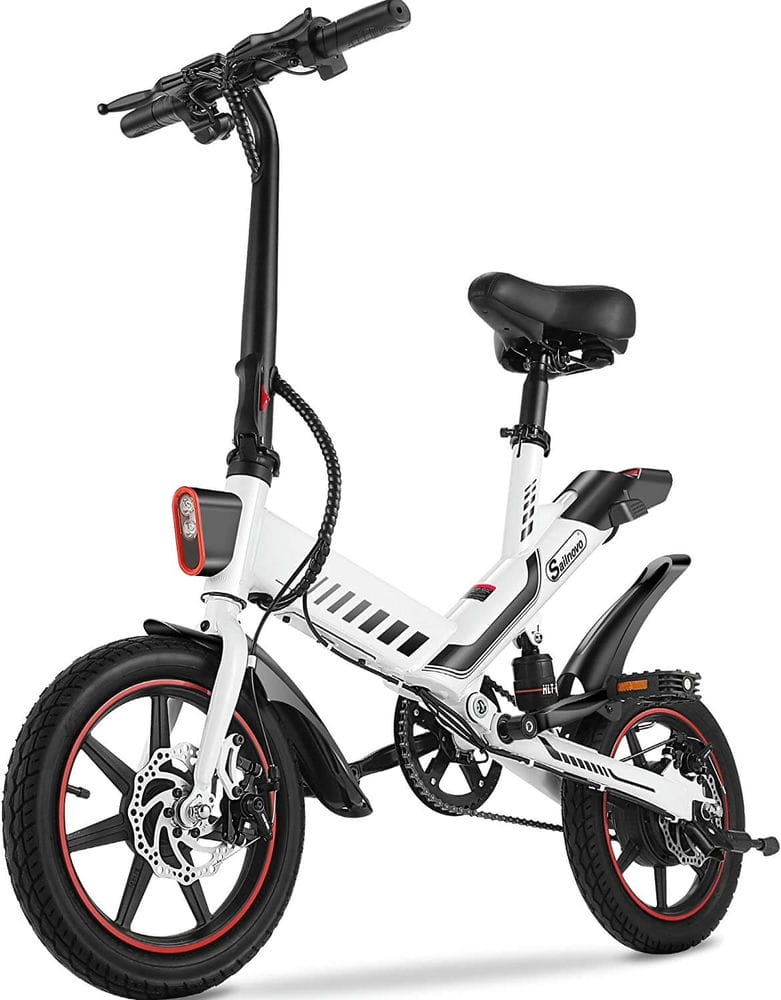 The Sailnovo Electric Bike is a compact, lightweight option that is perfect for commuting in the city. Despite its small size, this e-bike has impressive features, including a 350W motor, dual disc brakes, non-slip handlebars, an LCD battery and speed indicator, anti-shock tires, and an adjustable saddle. The dual LED headlights and bright taillight provide visibility on night rides, and you can add a kettle holder or basket for extra storage. The lithium-ion battery charges in only 5-6 hours, allowing you to reach speeds of up to 18.5 mph. This electric bike is easy to store and ideal for city commuting.
1 speed
Polished white color
14-inch wheels
Aluminum frame
Rear suspension
Special features: basket, electric, portable, foldable
Pros:
Attractive design with sparkly pearl white finish and no imperfections
Bright LED headlights and taillights for night riding
Horn for warning pedestrians
Good battery life, especially on flat terrain
Stock gear ratio allows for pedal assistance and acceleration up hills
Motor can reach speeds of 13-14mph
Three modes, although all provide the same level of pedal assistance and allow for use of throttle
Can be modified to show MPH on speedometer and to increase gear ratio
Functioning pedals make it legally classified as a bicycle and road legal in many states
Cons:
Stock gear ratio is too low for comfortable pedaling
Speedometer only shows KPH and cannot be converted to MPH
No noticeable difference between modes
Seat height is too short for taller riders
Limited user configurable options in software
No taller seatpost included
Pedals may be intended for use as footpegs rather than for pedaling
Jasion EB7 2.0 Electric Bike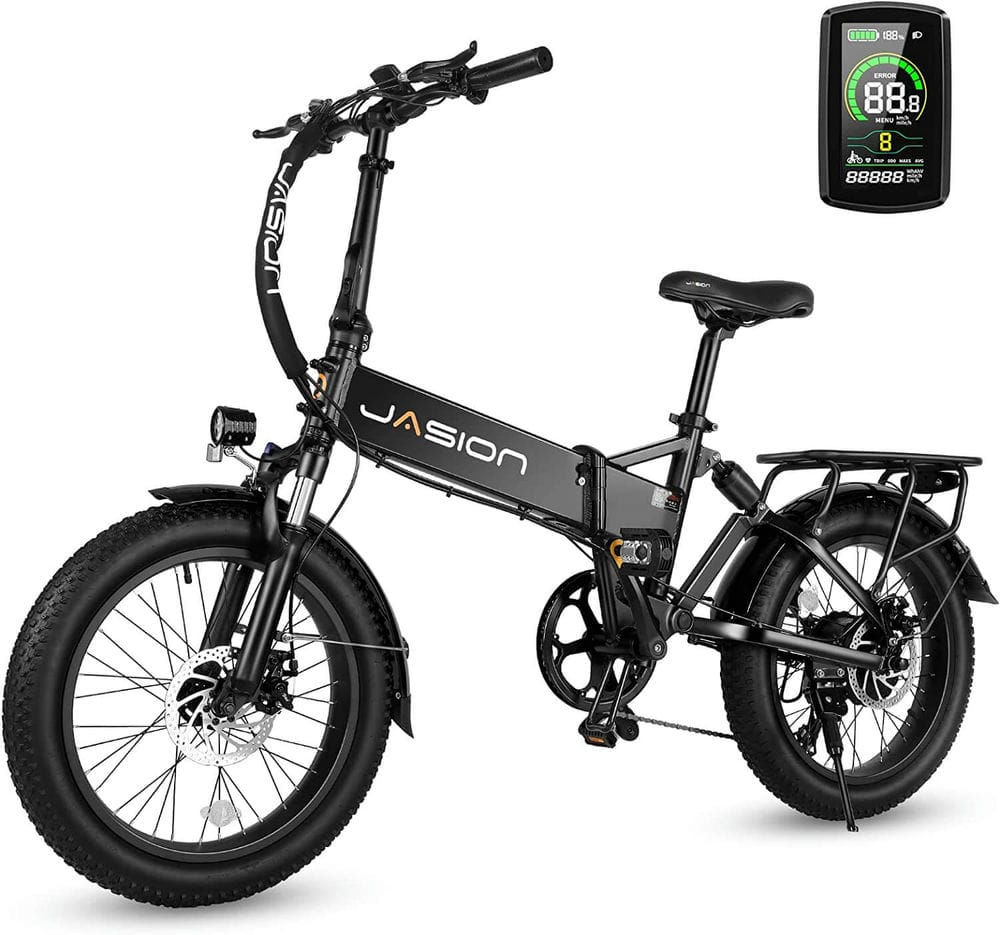 The Jasion EB7 2.0 Electric Bike is a versatile option that is suitable for both city streets and off-road trails. It is equipped with sturdy 20-inch tires and mechanical disc brakes for added safety. The dual suspensions provide a smooth ride, with a front suspension fork to absorb bumps and a rear seat suspension to absorb pressure.
The fat tires offer excellent shock absorption and grip. This electric bike is easy to store, as it folds down and can be placed in your trunk or on a subway or train. It also has a rear rack for storage and an LCD display that shows distance, battery level, and speed. The 7-speed system allows you to customize your ride, and there is a USB charging port to keep your phone charged.
Type: Folding Bike
Suitable for adults
7 speeds
Dark color
20-inch wheels
Aluminum frame
Dual suspension (front and rear)
Special features: portable, foldable
Pros:
Decent motor for steep inclines
7 or 21 speeds/gears for tackling difficult, uphill climbs
Pedal Assist System (PAS)
Easy to get on/off for a woman in her 60s
Comfortable ride with shock suspension
Fat tires for more balance and control
Detachable, large battery for long rides
Quality build
Straightforward assembly
Good performance
Cons:
Listed for riders 5'2″ and taller
Heavier than some other electric bikes
Disc brakes may require adjustment
Heybike Cityscape Electric Bike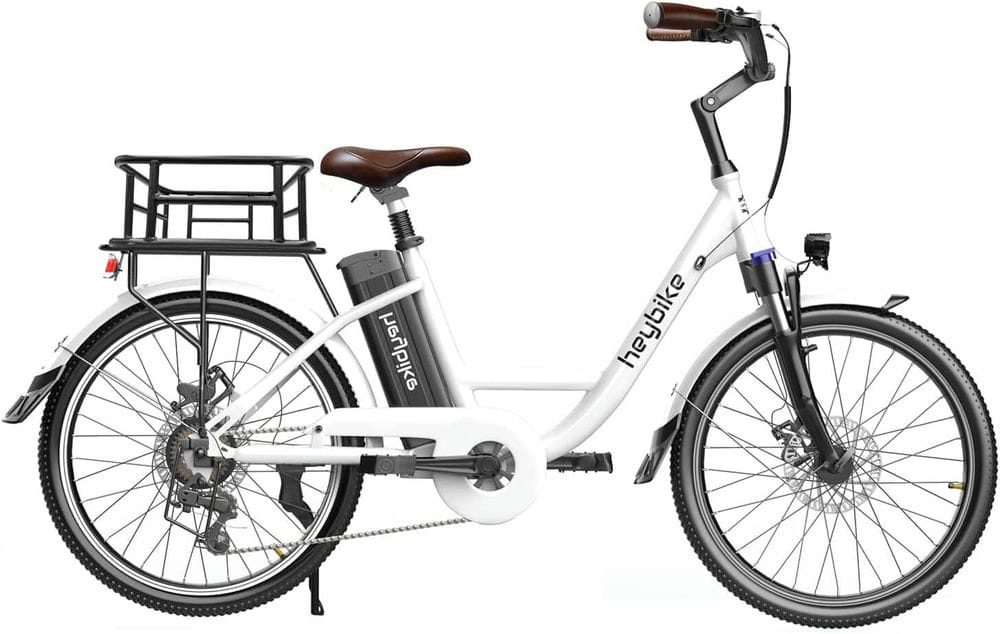 The Heybike Cityscape Electric Bike is a great choice for those looking for a comfortable and efficient way to travel on flat, paved roads. It has a powerful 350W motor that provides ample power, allowing you to travel up to 40 miles on a single charge with pedal assist.
The Cityscape can reach a top speed of 19 mph, making it a great option for commuting or running errands. The Shimano 7-speed system and dual shock absorber provide a smooth ride, ensuring you can enjoy your journey no matter where you're headed. Some potential pros and cons to consider with this electric bike are:
Age range: adult
Number of speeds: 19
Color: white
Wheel size: 26 inches
Frame material: carbon steel
Suspension type: dual
Pros:
Can handle mild off-roading
Easy to pedal in manual mode
Adjustable suspension seat post
Thumb throttle is easier to use than twist throttle
Cons:
Seat is not comfortable
Front brake needs to be adjusted after assembly
Seat post clamp nut is hard to turn
Bike goes at the speed of the thumb throttle, regardless of whether you are pedaling or not
ANCHEER Electric Mountain Bike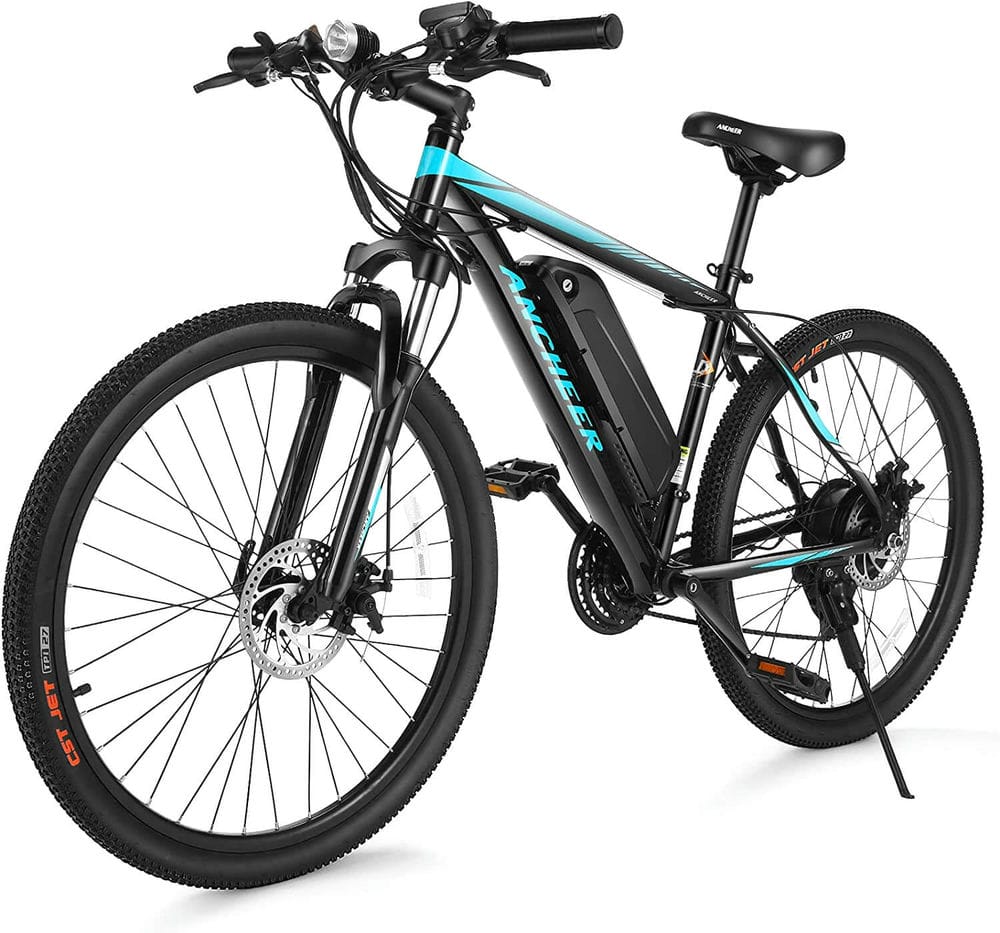 The ANCHEER Electric Mountain Bike is a high-quality option for those looking for a fast and smooth ride. It features 21 speeds for efficient transitions, and its construction is top-notch. The fork is made of strong carbon steel, the frame is lightweight yet sturdy aluminum alloy, and the double-walled aluminum rims provide durability.
This electric bike is suitable for both mountain adventures and commuting, thanks to its powerful 374.4W battery and 350W brushless geared motor. With four levels of power assistance, you can pedal up to 40 miles on a single charge, and the throttle allows for an extra burst of speed when needed.
Number of speeds: 21
Color: blue
Wheel size: 26 inches
Frame material: aluminum
Suspension type: front
Special features: 21 speeds, aluminum frame, electric, mountain bike, lightweight
Pros:
Good quality construction
Powerful battery and motor
Four levels of power assistance
Seller was quick to resolve issues and offer compensation
Comfortable seats can be added for personal preference
Great for beginners and casual riding
Cons:
Issues with correct installation and damage on the protector bar on the rear wheel
Gear cable needed readjustment for smooth shifting
Taller people may find the saddle and handlebars too low
FAQs
What are the e-bike Classes?
Electric bikes are divided into three categories, based on their speed and how they are used.
Class 1 bikes are the slowest and only provide assistance while pedaling, up to a speed of 20 mph. These bikes can be used on bike paths and bike lanes shared with regular bikes.
Class 2 bikes also provide assistance up to 20 mph, but you do not have to pedal for the motor to work. These bikes are allowed on the same paths and lanes as class 1 bikes.
Class 3 bikes are the fastest and most expensive, with assistance up to 28 mph. Their use is restricted by state laws and they are not typically allowed on multiuse trails or bike paths outside of roads.
If you are new to electric bikes, you may want to consider a class 1 bike as a starting point. These bikes are more affordable and can be used on city streets and bike paths. Class 3 bikes are more powerful and can handle heavy loads and steep hills, but you should check your local laws for ebike compliance before purchasing one.
What accessories do I need for my ebike?
There are several accessories that can enhance the safety, comfort, and enjoyment of your electric bike ride. For example, headlights are essential if you plan on riding at night, and brake lights can be crucial for safety when riding alongside cars in traffic. Bike racks can provide storage for work bags or other cargo, and mounted LCD displays and smartphone integration can be useful for monitoring your bike's performance and planning your route.
Do I need a removable battery?
Electric bikes can come with either removable or integrated batteries. A removable battery allows you to charge it in a separate location and is generally easier to replace. However, an integrated battery often offers more space for accessories, such as water bottles or bags. It is a matter of personal preference which type of battery you prefer.