A kitchen knife is a crucial tool for any chef because it allows them to efficiently cut through a variety of ingredients including vegetables and meats. It is worth investing in a high-quality kitchen knife because it is an essential item that you will use daily. When choosing a kitchen knife, it is important to consider factors such as weight, balance, and how it feels in your hand.
With so many options available, it can be overwhelming to select the best kitchen knife for your needs.
Before Buying a Kitchen Knife
Here are a few things to consider before buying a kitchen knife:
Knife Blade Material
The material of a kitchen knife's blade can have a significant impact on its performance and the tasks it is best suited for. Stainless steel blades are a popular choice due to their resistance to rust and ease of maintenance. However, they may not retain their sharp edge as well as other materials such as carbon steel or ceramic.
Carbon steel blades are known for their sharpness and strength, but must be properly cared for to prevent rusting. Ceramic blades are lightweight and extremely sharp, but can be brittle and prone to breaking when used for chopping through bones.
When selecting a kitchen knife, it is important to consider the specific properties of each blade material and choose the one that best meets your needs.
Knife Blade Shape
The shape of a kitchen knife's blade can greatly affect its suitability for various tasks. A chef's knife with a curved blade is well-suited for a rocking motion and chopping, while a straight-edged blade is ideal for precise slicing.
Different blade shapes can also provide variations in strength and sharpness, so it is important to choose the one that is best suited for the tasks you will be performing in the kitchen.
Knife Handle Material
When selecting a kitchen knife, it is important to consider the material of the handle. The handle should be comfortable to hold and should not become slippery when wet. Common materials used for kitchen knife handles include wood, plastic, and stainless steel.
Each of these materials has its own unique properties, such as durability, grip, and weight, so it is important to choose the one that best meets your needs and preferences.
Knife Weight
The weight of a kitchen knife can be a significant factor in its performance and overall comfort of use. A heavier blade can be helpful for cutting through thick meats or tendons, but it can also lead to fatigue in the small muscles and joints of the hand.
On the other hand, a lighter blade may not have as much cutting power, but can be more comfortable to use for extended periods of time. When choosing a kitchen knife, it is important to find a balance between weight and comfort that works best for you.
Knife Balance
Proper balance is an important factor to consider when selecting a kitchen knife. A well-balanced knife will allow you to apply maximum force to the blade while cutting, resulting in efficient and effective use.
A knife that is imbalanced, with either too much weight in the handle or blade, can lead to fatigue and reduced precision in your cuts. Look for a kitchen knife that feels well-balanced in your hand and allows you to easily control the blade.
Best Kitchen Knives List
imarku Chef Kitchen Knife (High Carbon German Stainless Steel)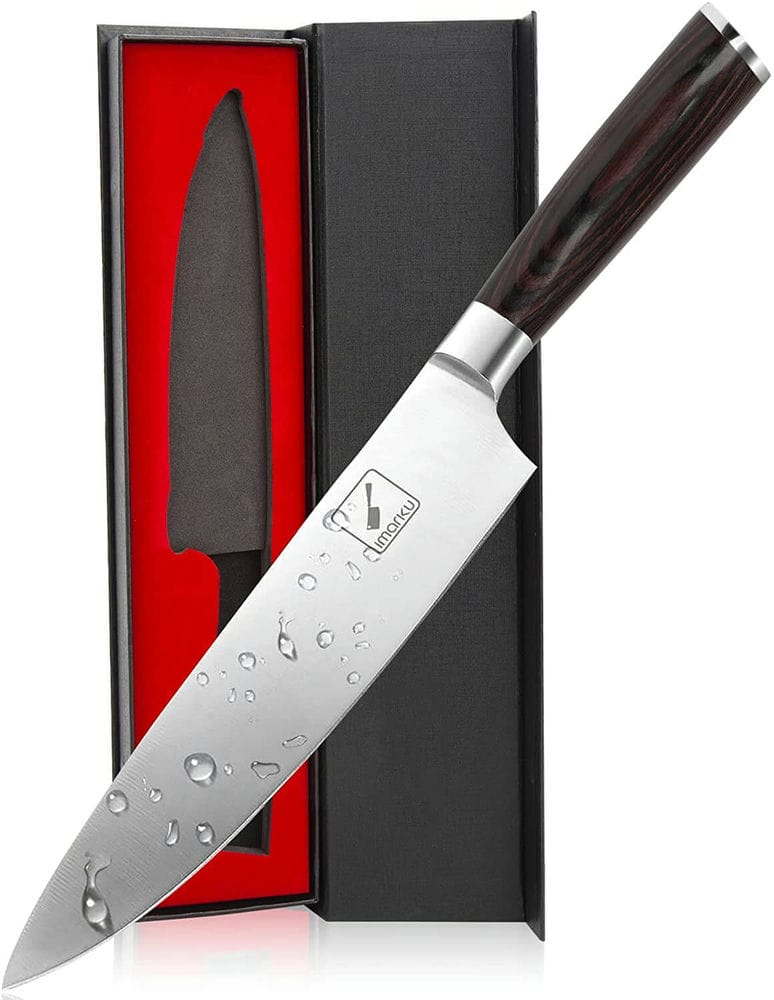 The imarku Chef Knife is a professional-grade kitchen knife that is perfect for a wide range of tasks. It features a high-carbon stainless steel blade that is two times as hard as other knives in its class, ensuring excellent durability and performance.
The knife's handle is made from ergonomic pakka wood, providing comfort and stability during use. The blade is ultra-sharp and corrosion-resistant, thanks to its high chrome content, making it a reliable choice for both home and professional kitchens.
Pros:
Sharp blade
Nicely made
Lightweight
Easily sharpened
Holds edge well
Stylish
Fits hand well
Cons:
Handle is thick and hits cutting board when attempting to use handle over board
Wanbasion Blue Professional Kitchen Knife (Chef Set)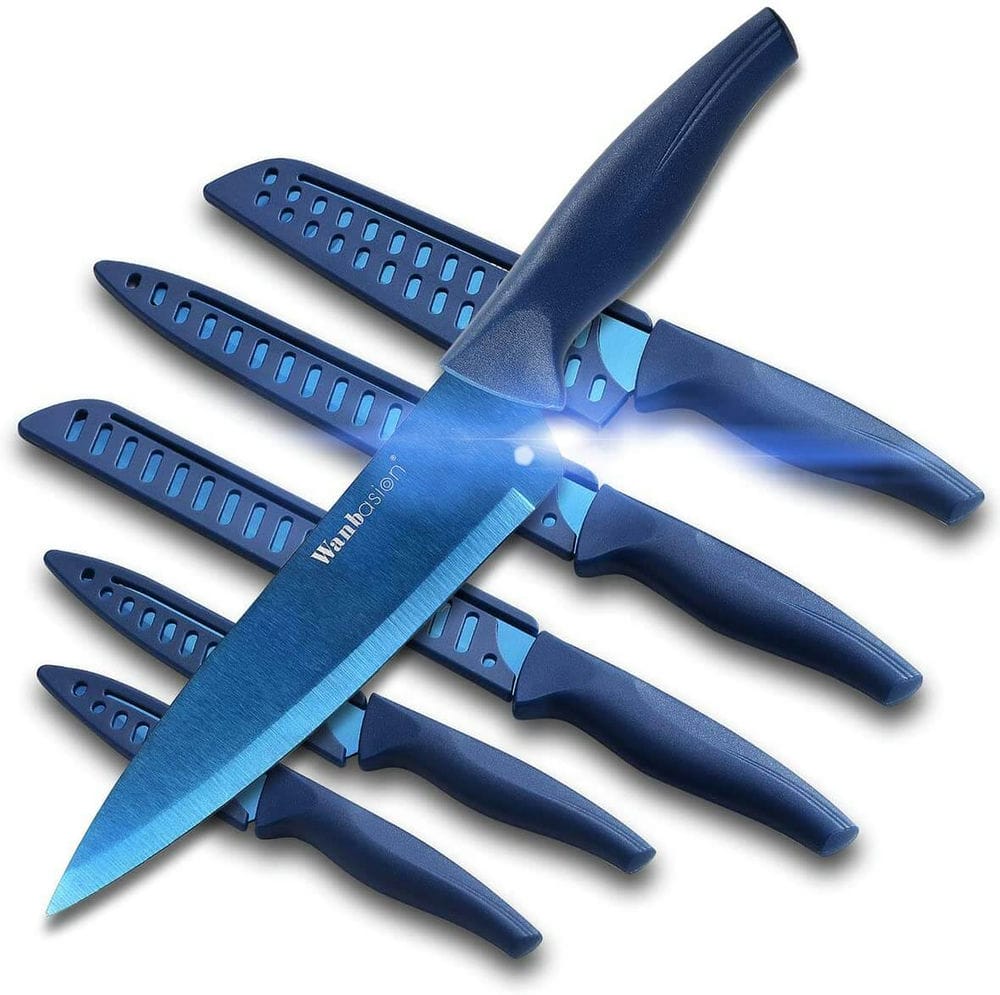 The Wanbasion Blue Professional Kitchen Knife Chef Set is a high-quality, stainless steel knife set that includes a 11-inch chef's knife with a forged handle and two serrated chef's knives. These knives are made with a satin-finished steel body that is coated with an anti-corrosion titanium layer, making them resistant to corrosion, scratches, rust, and stains.
The special manufacturing process used on these knives ensures that they are flexible and strong, making them suitable for tougher cooking tasks. The precision edge technology used on these knives also improves their sharpness and edge retention. The Wanbasion Professional Kitchen Knife Chef Set is dishwasher safe and comes with sheathes to protect the blades.
Pros:
Well sharp
Easy to use
Well-priced
Comes with sheathes
Vibrant colors available
Lightweight
Cons:
Handles made of plastic
May discolor quickly
PAUDIN Chef Knife (8-inch High Carbon Stainless Steel)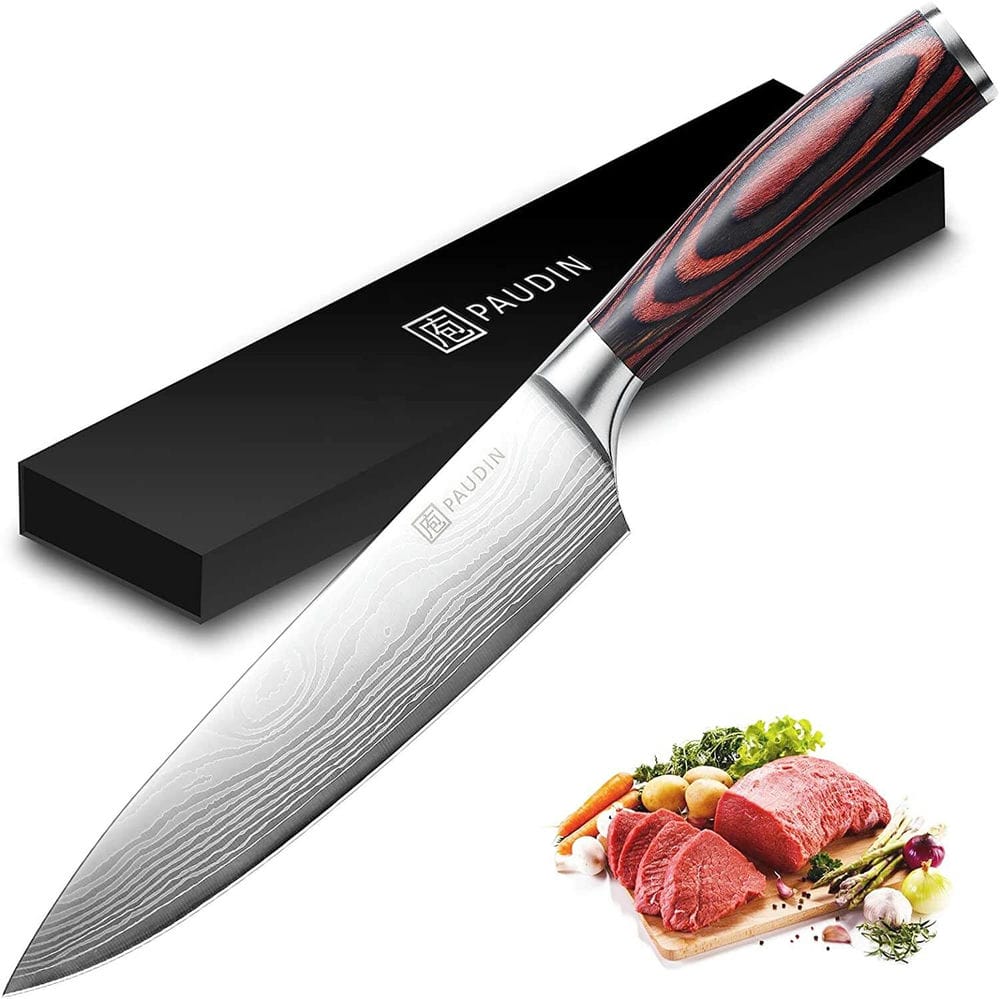 The PAUDIN Chef Knife is a high-quality, rust-resistant knife made of German stainless steel. It has an 8-inch blade that is suitable for cutting various foods, including bread, vegetables, and meats. This multi-functional knife can be used for home or professional cooking, and is capable of handling various kitchen tasks such as chopping, slicing, mincing, and dicing.
The blade is ultra sharp and hand-polished by skilled craftsmen to ensure long-lasting sharpness. It has a thickness of 2mm, which is ideal for efficient cutting. The handle of this knife is ergonomically designed for a comfortable grip, and the overall design is striking with a special waved pattern on the blade.
The PAUDIN Chef Knife comes with a gift box and a lifetime warranty against defects in material and workmanship. The company also offers a 100% satisfaction or money-back policy.
Pros:
Highly rated by users
Comfortable handle that fits small and large hands well
Durable and requires minimal sharpening
Good quality steel with a Damascus effect design
Suitable for daily use in the kitchen
Affordable price
Cons:
Wood handle requires care and should be hand washed
Damascus effect is laser etched, not actual Damascus steel
Chef Knife Stainless Steel Knives (High Carbon Steel Chef Knife 8 inch)
The Wanbasion Chef Knife is a professional-grade pick made of high-quality stainless steel. Its 8-inch blade is ultra-sharp and made of German 5Cr15 steel, known for its durability and resistance to rust, corrosion, and discoloration. The blade is 2.5mm thick and has a hand-polished edge of 14-16 degrees per side, making it sturdy and sharp enough to handle a variety of tasks in the kitchen.
The handle of the Wanbasion chef knife is ergonomically designed and made of ABS cast steel, providing a comfortable and secure grip. It is laminated and polished for a sanitary build, and even includes a carbonized, half open stainless steel finger guard to protect the blade.
This 8-inch chef's knife is perfect for chopping, slicing, mincing, and dicing a variety of fruits, vegetables, and meats, including fish and beef. It comes in high-quality packaging and makes for a great gift for friends and family. Trust in Wanbasion's customer service for all of your kitchen knife needs.
Pros:
Ergonomic handle
Carbon stainless steel is ultra-sharp
FAQs about Kitchen Knife
Q: What are the best knives for home use?
A: The best type of knife depends on your cooking needs. For general purposes, a standard kitchen knife is versatile and suitable for most tasks. A kitchen knife set with a variety of knife types can be a good investment for more specialized tasks.
Q: How much should I spend on kitchen knives?
A: It's worth investing in a good quality knife set, which can range from around $50 to $100. Cheap knives may not be sharp or have good build quality and may not last long.
Q: What should I look for when buying a kitchen knife?
A: Consider the type, sharpness, and quality of the knife when making a purchase. Choose the type of knife suitable for your needs, ensure it is sharp enough for efficient use, and consider the quality of materials used in the knife's construction.
Q: How do I wash my knives?
A: Wash your knife with warm water and dishwashing soap, rinse with clear water, and dry it immediately with a towel or air dryer. When storing the knife, place the handle facing up or use a dedicated holder.
Q: How and when do I sharpen knives?
A: A honing steel is a common tool used to sharpen knives by grinding the blade edge against the steel's surface. The frequency of sharpening depends on personal preference and how sharp you want the knife to be.