Huawei, facing challenges in the smartphone market in USDpe, is shifting its focus to the laptop sector with the new MateBook X Pro. The Chinese manufacturer aims to dominate the high-end ultrabooks market on Windows. But, does the MateBook X Pro live up to its price tag? We put it to the test to find out.
Unlike previous years, Huawei has made significant changes to the MateBook X Pro. The 2022 model boasts Intel Evo certification, a new webcam location, a redesigned and textured chassis, and improved touchpad features. At 2200 USD for a single version of 1 TB SSD and 16 GB RAM, it is more affordable than similar configurations from competitors like the MacBook Air. Given the premium price, we expected nothing less than excellence from the MateBook X Pro and pushed it to its limits for over three weeks to see if it delivers. Here's our verdict.
| | |
| --- | --- |
| Screen size | 14.2 inches |
| Screen type | IPS LCD |
| Screen definition | 3120 x 2080 pixels |
| Refresh rate | 90 Hz |
| Processor | Intel Core i7-1260P |
| Graphics card | Intel Iris Xe |
| RAM | 16 GB DDR5 |
| Storage | 1 TB |
| Connectors | 2 Thunderbolt 4, 2 USB C 3.2 Gen 2, 1 jack, WiFi 6, Bluetooth 5.2 |
| Dimensions | 310 x 221 x 15.6 mm |
| Weight | 1.26 kg |
Buy the Huawei Matebook X Pro Laptop on Amazon
Design, Huawei finally frees itself from Apple!
The Chinese manufacturer, Huawei, has often looked to MacBooks for inspiration in its PC ranges. While taking inspiration from Apple's near-perfect computers may not be a bad idea, it is much more appealing when an ultrabook has its own distinct personality. The MateBook X Pro, Huawei's latest ultrabook, is a prime example of this. With its own unique features and design, it stands out in the crowded ultrabook market.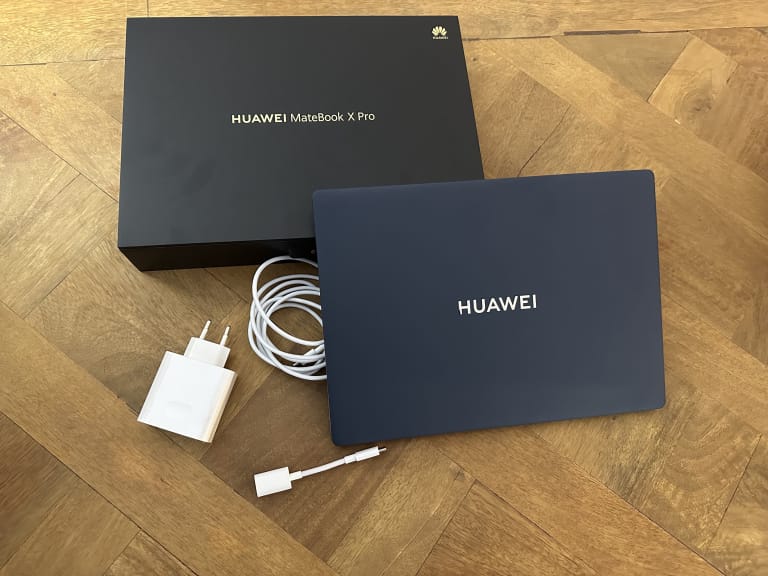 The Huawei MateBook X Pro boasts impressive construction and design. It is both durable and visually stunning, thanks to its clean lines and excellent grip. Despite its 14-inch size, it is incredibly thin and lightweight, measuring just 310 x 221 x 15.6 mm and weighing only 1.26 kg. Huawei has truly outdone itself with the MateBook X Pro's design, making it stand out among other ultrabooks in the market.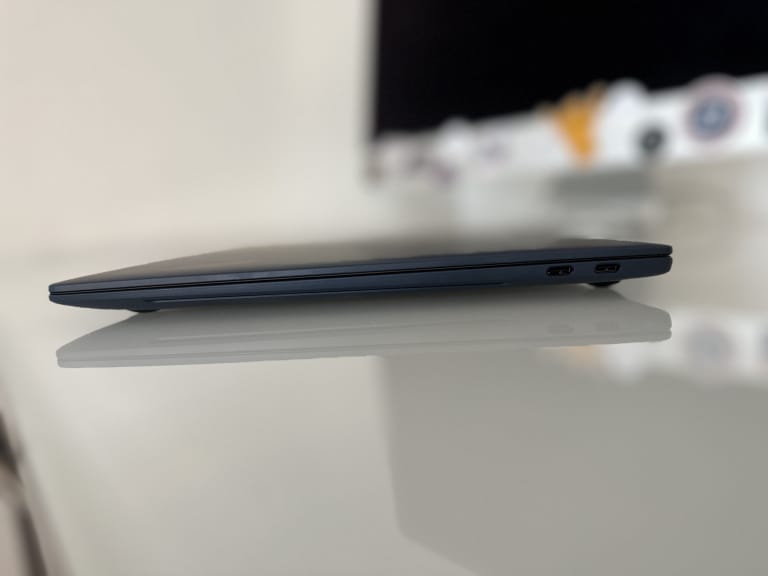 The only significant downside to the Huawei MateBook X Pro is that its chassis is a fingerprint magnet. Despite its sleek design, it tends to retain fingerprints easily, which can be frustrating for users who are looking for a sleek and polished look.
Keyboard and trackpad, premium and original
From the moment you start using the MateBook X Pro, it's clear that it's an excellent office companion. The keyboard layout is well-spaced, the keys have a satisfying rebound, and the resistance is perfectly balanced. The keyboard is also very quiet, even during heavy typing sessions. Additionally, the backlighting is adjustable to three levels, providing effective illumination in low-light environments without being too bright.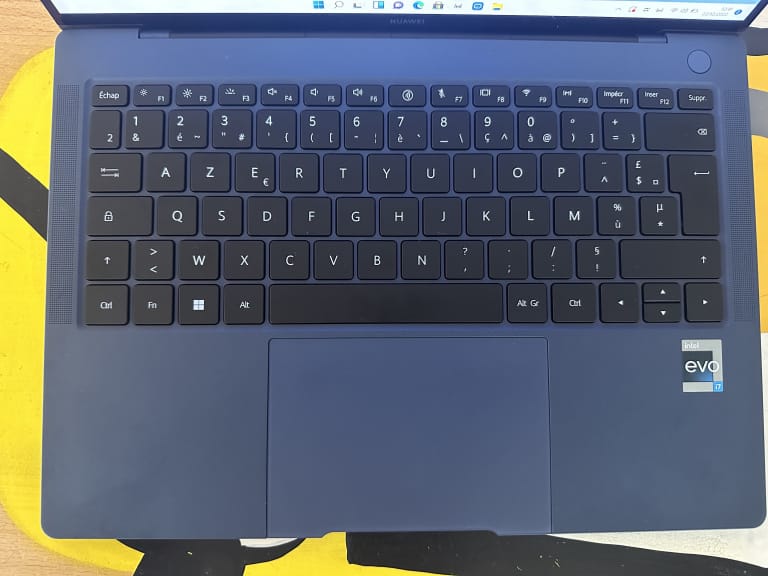 The MateBook X Pro's touchpad is wide, comfortable, and responsive, extending to the outer frame seamlessly. It's incredibly responsive to finger gestures and the haptic feedback adds to the feeling of freedom and control. The touchpad is a pleasure to use, making it easy to accomplish any task.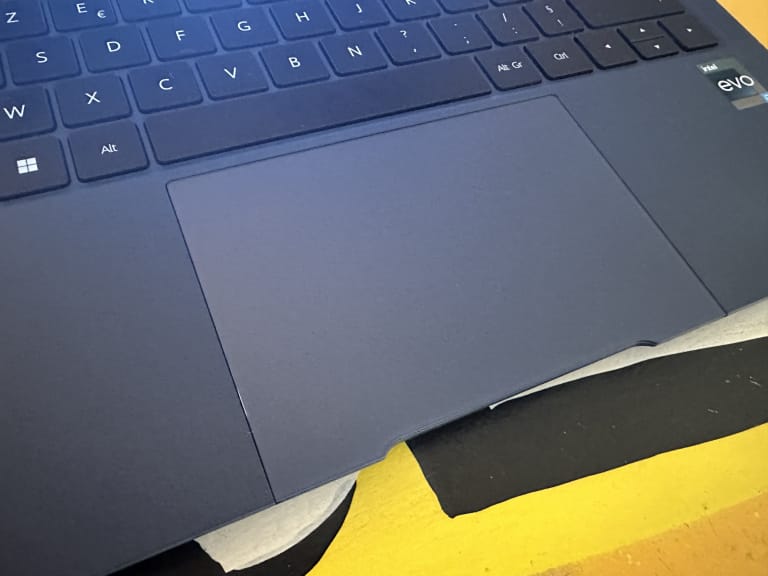 At first glance, the MateBook X Pro's controls might seem like unnecessary features, but over time, they prove to be incredibly useful. They greatly simplify and enhance the user experience, making the device more user-friendly. However, it would be nice if the interactions could be customized in future models.
Screen, a little technological gem!
The first time you launch a video on the MateBook X Pro's 14.2-inch touch screen, you'll be blown away. The screen takes up almost 92% of the front of the PC, which is one of the best ratios on the market. With a resolution of 3K (3120 x 2080 pixels) and an adjustable refresh rate of 90 or 60 Hz, the screen is a visual masterpiece. The color fidelity is excellent and the contrast ratio is superb. This is particularly noticeable in dark scenes of a film, where shades of gray are clearly visible.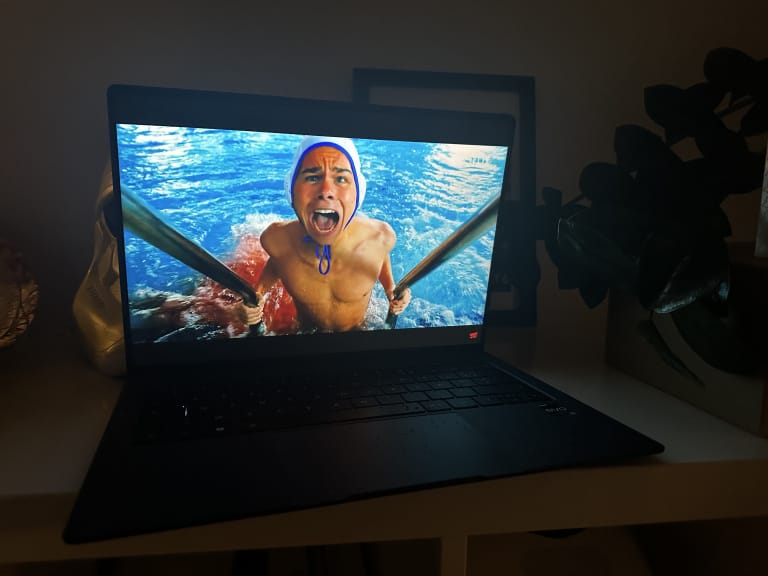 Even though we did not have the opportunity to test it under direct sunlight, the MateBook X Pro's screen is so bright that it would be perfect for use on a terrace during the summer. The touch screen and high brightness would typically lead to reflections, which is a common problem with high-end laptops. However, the MateBook X Pro's screen has an effective anti-reflective treatment, making it easy to see and read the contents even in bright natural light.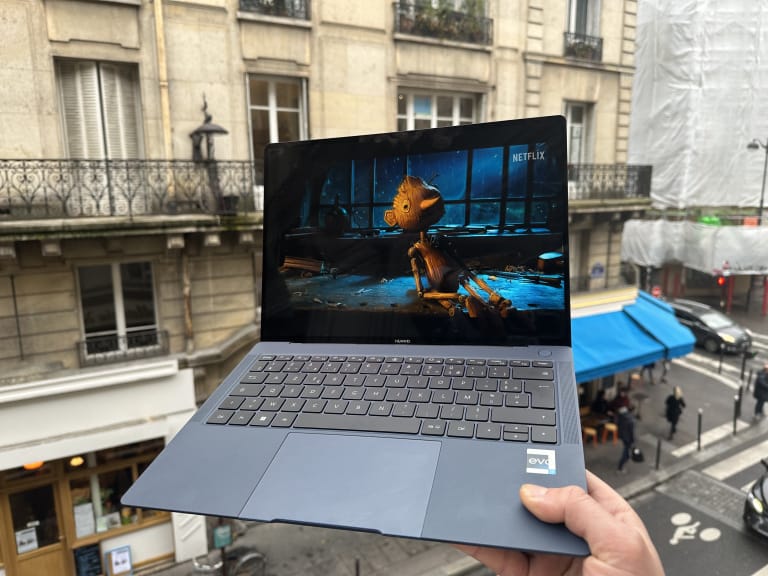 The MateBook X Pro 2022 excels in all areas, whether it be video playback, office work, or web browsing. It stands out among other ultrabooks in the market.
Performances, it sends heavy!
As a high-end ultrabook, the MateBook X Pro 2022 is powered by a Core i7-1260P processor with 12 cores, 8 for efficiency and 4 for performance, reaching a maximum clock speed of 4.7 GHz. It is available in a single configuration with 16 GB of DDR5 RAM and 1 TB of SSD storage. This ensures the device is fully capable of handling any tasks that the user might throw at it.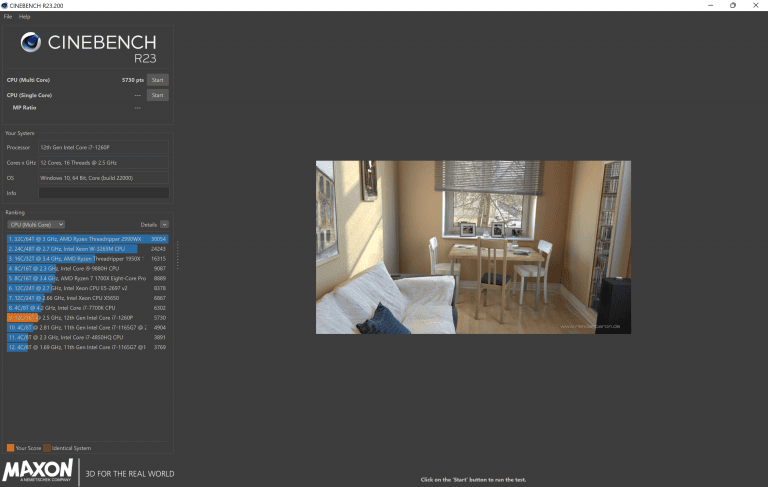 The MateBook X Pro 2022's performance is on par with other high-end ultrabooks like the MacBook Air M2 with its M2 chip and the Asus Zenbook S13 Oled with its Ryzen 7 6800U from AMD. While the latter two devices may cost less, the MateBook X Pro 2022 is configured to be a true powerhouse, delivering excellent performance. The Core i7 processor is configured to its full potential, making it a real monster when it comes to performance.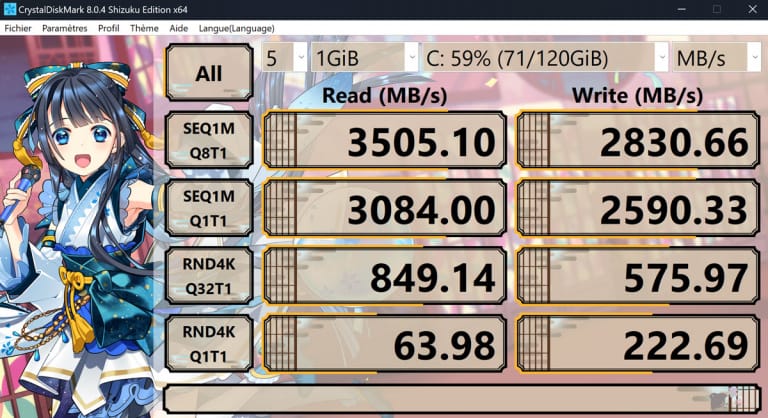 The MateBook X Pro 2022 does not have a dedicated graphics card and as such, it's not suitable for running demanding video games. The Intel Iris Xe graphics is not designed for gaming and it may struggle to run games at high settings. However, it can still run games at lower settings and with an average of 30 FPS. It should be noted that while it may not be the best option for gaming, it excels in other areas such as office work and video playback.
Software, Windows pure and hard!
One of the best things about the MateBook X Pro 2022 is that Huawei does not preinstall software or antivirus programs such as McAfee or Norton on the device, giving the user the freedom to choose their own software. The PC Manager interface provides quick access to various settings and options. Additionally, the control panel located at the bottom right of the screen is very practical, making it easy to access settings and features. This approach is much appreciated compared to other brands who tend to preinstall unnecessary software.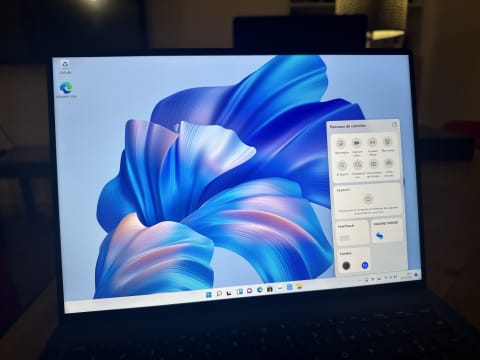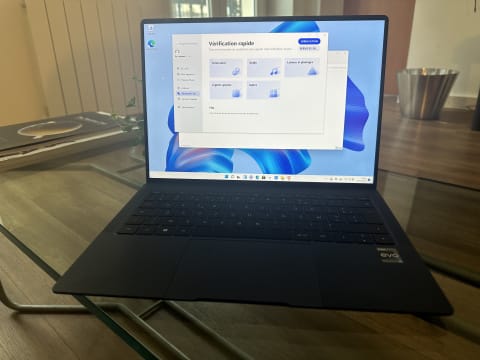 The MateBook X Pro 2022's 720p resolution webcam is adequate for video conferencing, but nothing more. The webcam is positioned in such a way that unflattering low-angle views are avoided during video calls. However, in low-light conditions, noise can appear if the room is not well-lit, making it less than ideal for evening meetings in the winter. It's a shame that Huawei didn't aim for a more ambitious webcam for a PC at this price point.
Autonomy, one step away from perfection?
To stay competitive, the MateBook X Pro 2022 is equipped with a 60 W battery and a 90 W USB-C charger. The charger is relatively compact, similar to the size of a smartphone charger, and weighs about 217 grams.
This combination makes it easy to transport, as their combined weight does not exceed 1.5 kg. This is especially convenient as you will likely need to carry both the laptop and charger with you. In moderate use, during a typical workday, this laptop lasts about 8:30 hours. During this time, we were browsing social media, sending emails, doing simple office work, listening to music, having two video calls, watching videos on YouTube, and spending an hour on Twitch.
All with a 60 Hz refresh rate and 80% brightness. To put it simply, we did not push it to its limits.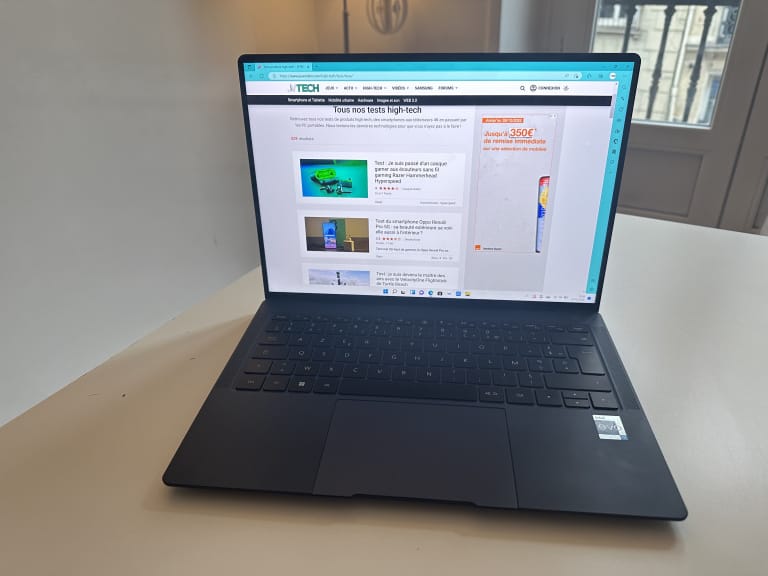 The battery performance of the MateBook X Pro 2022 is average for an ultrabook of its caliber. However, it does have a quick charging time, taking an average of one hour to go from 5 to 90% battery.
Buy the Huawei Matebook X Pro Laptop on Amazon
Editor's Verdict
Pros:
High-quality design and construction
Comfortable keyboard and touchpad
Bright, reflection-free screen with excellent performance
Strong audio system
Fast charging
Cons:
Below-average battery life
Prone to fingerprints and smudges
Only available in Core i7 configuration
The MateBook X Pro 2022 is a standout in the world of high-end ultrabooks. Huawei has taken a bold step in offering a laptop with its own unique design, making it a standout in a sea of similar-looking devices. The screen is stunning, the audio system is top-notch, and its performance is solid, making it a great companion for both work and entertainment.
It's also lightweight and portable, making it perfect for taking on the go. The only downside is that the battery life is not quite up to the standard of its competitors, but it makes up for it with its fast charging capabilities. Additionally, the only configuration available is a Core i7, which may be too expensive for some.
However, with its current price point of 1999 USD, a reduction of 200 USD on its initial price, it is still a great value for what it offers.