The HUAWEI Watch Fit 2 is a smartwatch that stands out for its beauty and unique features, making it one of the most complete options on the market today. This smartwatch allows you to control your health and physical activity directly from your wrist, as well as receive Bluetooth calls and notifications. Additionally, the HUAWEI Watch Fit 2 offers a wide range of features that may surprise you.
With an affordable price, currently on sale for only 139.99 USD, 20 USD less than its original price, this smartwatch is a great option for those looking for a smartwatch with a variety of features. Don't miss out on this deal and grab it now!
Buy HUAWEI Watch FIT 2 Smartwatch for $139.99 on Amazon
Charming Watch with Comprehensive Features
The HUAWEI watch boasts a large 1.7-inch AMOLED screen with ultra-thin bezels and a sleek design, allowing for an immersive viewing experience. The watch's straps can be easily swapped out in seconds to better suit personal style.
This watch is the perfect companion for managing a healthy lifestyle, featuring advanced health monitoring functions such as heart rate control, blood oxygen level tracking, and sleep and stress monitoring. Users can also set personalized daily task reminders.
The watch also excels as a workout companion, offering exclusive voice-guided fitness animations and warm-up stretches for 7 popular workout modes. It tracks a variety of activities including walking, running, swimming, cycling, rowing, and more.
Users will never have to worry about getting lost thanks to the watch's compatibility with satellite navigation systems such as GPS, Beidou, GLONASS, Galileo, and QZSS. The advanced location system even allows for tracking of outdoor workouts.
The watch also has a call function, displaying incoming calls and allowing for quick answers or call rejection directly from the watch, eliminating the need to reach for a phone.
The HUAWEI watch also offers long-lasting battery life, lasting up to 10 hours in typical use or 7 days with intensive use. A quick 5-minute charge is all that's needed for a full day's use. Additionally, the watch is compatible and can be easily synced with both HUAWEI and iPhone and Android devices.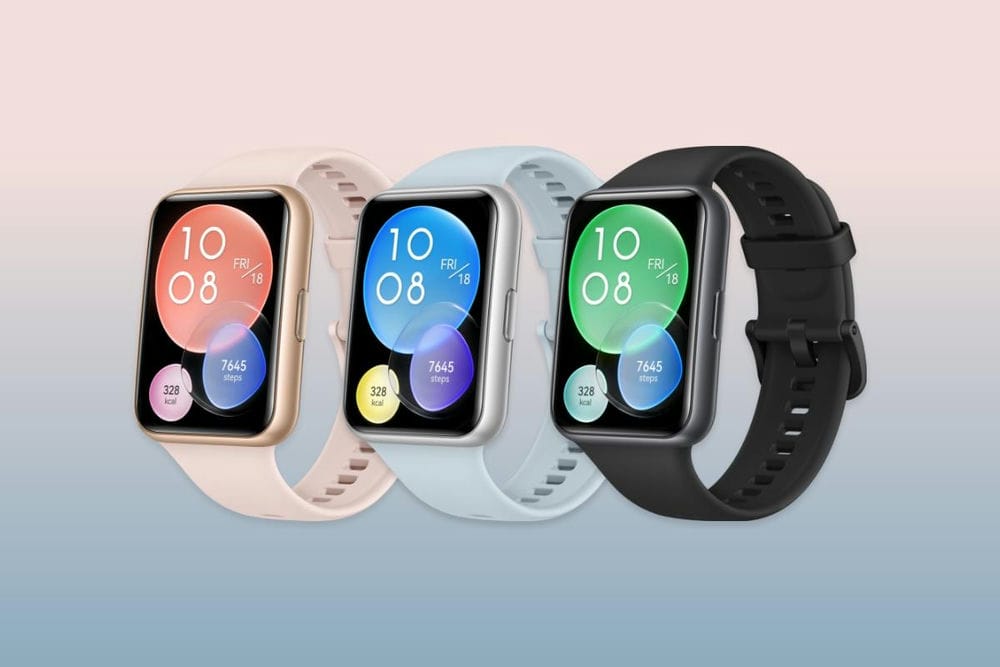 Other HUAWEI Watches
The HUAWEI Watch Fit 2 stands out among the brand's other smart watches for its combination of attractive design, comprehensive features, and affordable price. While the HUAWEI Band 7 smart bracelet may be similarly priced, it lacks the same level of functionality.
The HUAWEI WATCH Fit New and HUAWEI WATCH Fit mini may be more budget-friendly options, but they fall short in terms of features and do not have the capability to answer calls. In contrast, the HUAWEI Watch Fit 2 boasts a sleek design, advanced sensors, and a larger screen.
While the HUAWEI WATCH GT3 and WATCH GT 3 Pro may offer more sensors and sports modes, they come with a smaller screen and higher price tag. The HUAWEI Watch Fit 2 offers the best balance of quality and price for those looking for a smart watch to track their health and daily activity.
Ultimately, the decision of which smart watch to purchase will depend on your budget and desired features. However, it is clear that the HUAWEI Watch Fit 2 offers exceptional value for its price.
Buy HUAWEI Watch FIT 2 Smartwatch for $139.99 on Amazon