In order to outrank your competitors on search engine results pages, it is important to conduct a competitor keyword analysis.
To do this, you can use various tools to identify your competitors' keywords. Some common methods for finding competitors' keywords include analyzing their website content, using keyword research tools, and examining their paid search campaigns.
By understanding your competitors' keyword strategies, you can optimize your own content and campaigns to improve your search rankings and drive more traffic to your website.
Learn how to conduct keyword competition analysis and use tools to optimize your content and campaigns for better search rankings.
Define competitor keyword analysis
Competitor keyword analysis involves identifying the keywords that your competitors are using to rank highly in search results, in order to optimize your own content and improve your search rankings.
What is the purpose of competitor keyword analysis?
Keywords are an important part of SEO strategy.
Competitor keyword analysis helps you understand how your competitors are using keywords and their successes with their strategy.
Competitor keyword analysis should be focused on relevant keywords for your business and related to your existing content.
This analysis helps you understand how difficult it will be to outrank a competitor and identify opportunities for high ROI.
Ways to use competitor keyword analysis
Use your competitors' keywords to improve your search rankings.
Target keywords that your competitors aren't using.
Find long-tail keywords used by your target audience.
Determine why your competitor's website ranks higher for certain keywords.
How can I find my competitors' keywords?
Competitor keyword research isn't as simple as using a tool to generate a list of competitor keywords. While tools can be helpful, manual research is also necessary to create a comprehensive list.
There isn't a single tool to perform competitor analysis of organic keywords, but there are strategies that can make the research process quicker.
Best Free Tools to Find Competitor Keywords
Google Keyword Planner
Google Keyword Planner is a free tool offered by Google Ads that helps users research and analyze keywords for their advertising campaigns. It provides data on the search volume and competition level for specific keywords, as well as suggestions for related keywords.
Pros:
It has powerful filtering and sorting capabilities
You can customize the columns you'd like to include in your report and download it as a CSV or Sheets file
Cons:
It does not provide information on your competitors' rankings
It does not tell you where your competitors perform best in organic search results, which is important for competing and winning in those results.
Here how to use it to find your competitors keywords:
You should have a Google Ads account
Go to Google Ads
Click "Tools and settings" and select "Keyword Planner"
Choose "Discover new keywords"
Select "Start with a website" and enter your competitor's URL and click "Get results"
View the "Keywords results list" and download as excel sheet.
WordStream
WordStream is a top online advertising company and Google Premier partner that helps thousands of clients with its software and services. It also offers a useful free Google Ads Performance Grader tool, try it.
Pros:
It is a simple, easy-to-use tool
It is free to use
You can get a lot of information without creating an account
Cons:
It does not provide your competitors' actual rankings
It does not offer an upgraded version of its tool with additional features
It was created by a marketing agency, not a software company, so it may not have the same level of technical expertise as some other tools.
To find competitor keywords WordStream tool follow these steps:
Go to wordstream.com/keywords.
Enter your competitor's website URL.
Click "Find My Keywords"
Confirm the URL, select an industry (optional), and enter a location.
Click "Continue"
Click "Download all Keywords" to receive the list via email.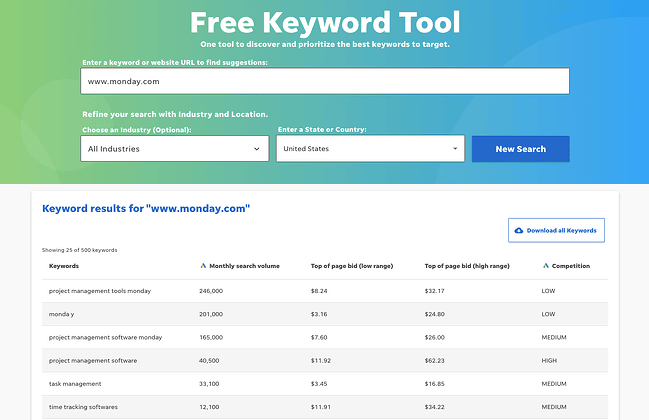 What added value you get from me as an SEO Expert?
If you want to ensure that you are able to effectively identify the most profitable keywords for your business among the long list of options available in tools like Google Keyword Planner and WordStream, consider hiring me for in-depth SEO keyword research and competitor analysis.
With my expertise, you can have a comprehensive report within 24 hours, giving you the insights you need to make informed decisions and drive success for your business. Trust me to help you extract the valuable information you need to succeed in your market.
I will present it to you on a silver platter for $20 ONLY.
To rank your website higher in Google you need strong SEO Keyword Research with high search volume and low competition. I will help you to find the best keywords in your niche.
 Keyword research includes
Up to 100 words ( Depending on your niche )
Low kw difficulty ( easy to rank )
Long-tail keywords
High Volume
Cost Per click
Complete excel report (easy to access)
Competitor Analysis includes
 Complete analysis of your top 3 Competitors
 Weaknesses of your Competitors
 Top Ranking keywords
 Organic Traffic
 DA, PA
 Backlinks
I need the following information from you to do my homework:
Niche (business category)
URL of your website
URL of your competitor's website
Keywords languages i accept handle:
English
Czech
Dutch
French
German
Italian
Spanish
Turkish
Urdu
More than 350+ completed orders with 4.9 star ratings, indicating experience in this field