Alienware is a well-known brand in the gaming PC market, known for offering high-end machines for gamers and creatives. The Alienware X17 R2 is one such machine, with a premium configuration that provides excellent performance.
One of the unique features of Alienware is its distinctive designs, which are quite original and stand out from the competition. While other brands, such as Asus and Lenovo, also offer portable gaming PCs, Alienware's offerings are geared towards the higher end of the market.
The Alienware X17 R2 has several notable features, which will be discussed in this review.
Buy the Alienware X17 R2 gaming laptop from Amazon
Introducing the Alienware X17 R2 Gaming Laptop
| | |
| --- | --- |
| Screen size | 17 inches |
| Screen type | IPS LCD |
| Screen definition | Full HD 1920x1080p |
| Refresh rate | 360 Hz |
| Processor | Core i7-12700H |
| Graphics card | RTX 3080 Ti |
| RAM | 32 GB DDR5 4800 MHz |
| Storage | 1 TB M2 NVMe |
| Connectivity | 2 USB-C 3.2, 2 USB A 3.2, 1 3.5mm jack, 1 mini displayport, 1 HDMI, 1 RJ-45 |
| Dimension | 399x299x20 mm |
| Weight | 3.2 Kg |
| Introductory price | 4.199,99€ |
The Alienware X17 R2 is a heavy laptop, weighing in at 3.2 kg. However, its advanced ventilation system and dimensions make it a formidable gaming machine.
This model features a 17-inch Full HD 360 Hz IPS screen, which is a common size for high-performance gaming laptops. The Full HD resolution and 360 Hz refresh rate make for a smooth gaming experience, particularly for competitive gamers who prioritize high refresh rates over higher resolutions.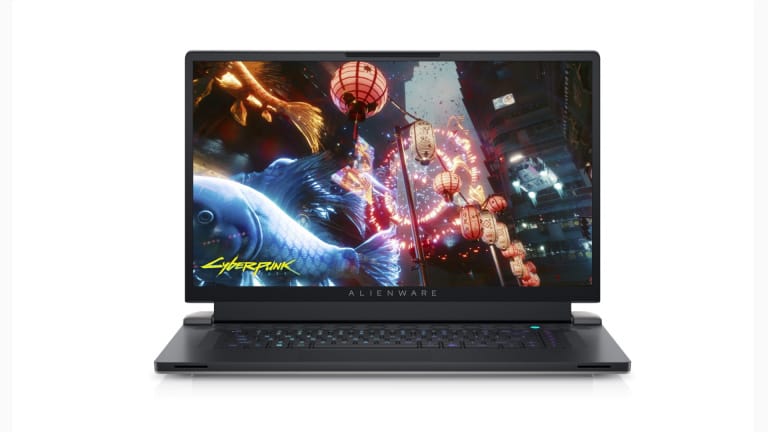 The Alienware X17 R2 is equipped with an i7-12700H processor and an RTX 3080 Ti graphics card, both from the 12th generation Intel (Alder Lake) and Nvidia respectively. These components have already proven to be powerful in terms of raw performance as well as ray-tracing capabilities.
The laptop offers excellent performance in popular competitive games such as Valorant, Overwatch 2, and Warzone 2.0, as it can easily reach 360 fps. We will be evaluating this in more detail in the dedicated performance section of this review.
---
Unique Design and Ergonomics
If you are familiar with the Alienware brand, it's likely that you'll notice that their laptop designs do not change dramatically between models. This is because the brand tends to stick with a winning formula.
The Alienware X17 R2 features a chassis made of aluminum with a plastic coating. When you open the laptop, the first thing you'll notice is its impressive ventilation system, which is located on the sides and above the backlit keyboard. As with most laptops, the keyboard is flat and has fully adjustable backlighting via Alienware software.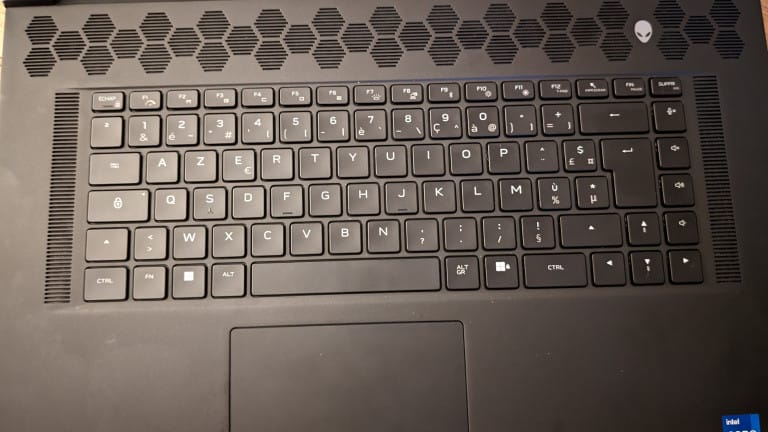 The Alienware X17 R2 features an Alienware button, which is represented by the Alien logo and serves as a start button. The laptop's matt plastic surface is non-slip and should not be affected by sweat.
The touchpad is large and multi-touch, which is great for navigation and it is clickable anywhere on its surface. This is very practical for precise actions, but for more precision, you may want to use a mouse.
The laptop's ventilation system is located on both sides and at the back, to help dissipate hot air from the PC. There is also an ellipse-shaped light ring that surrounds the entire rear output, as well as the various ports. However, the lighting can be blinding when trying to plug in cables, but it can be adjusted in the "My Alienware" menu.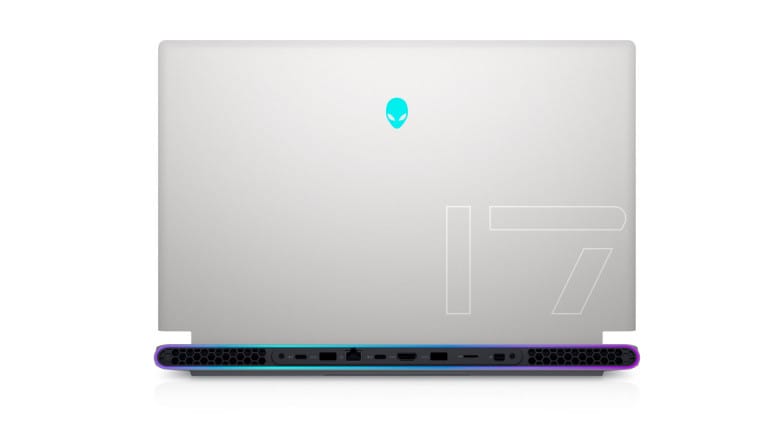 The Alienware X17 R2 features a white exterior with a backlit alien head logo and the screen size of the model. The keyboard is classic and flat, similar to most laptops. However, it is comfortable to use and has effective force feedback, even during gameplay.
The keys have a slight click for good audio feedback, but it shouldn't be too loud as most gamers wear headphones or earphones while playing. As with many laptops, the available space is limited, and the X17 R2 only has two USB A ports. This means that you may have to choose between connecting your Xbox controller, wired mouse, and USB headset.
---
A Gaming-Optimized Screen, but with Flaws
When buying a laptop PC, it's important to pay attention to the screen since it's an integral part of the device and cannot be easily replaced like a desktop PC.
The Alienware X17 R2 has an LCD panel, which may have some limitations, particularly in darker games where light leaks can appear at the bottom and top of the screen. In some rare cases, small white lines may appear, which can be an issue when purchasing a high-end gaming laptop. However, for gaming, the X17 R2's IPS panel delivers beautiful colors and strong contrasts even when viewed from off-center angles.
The laptop also has a display latency of only 1 ms, so it won't be the cause of any missed flick-shots in games like CS:GO.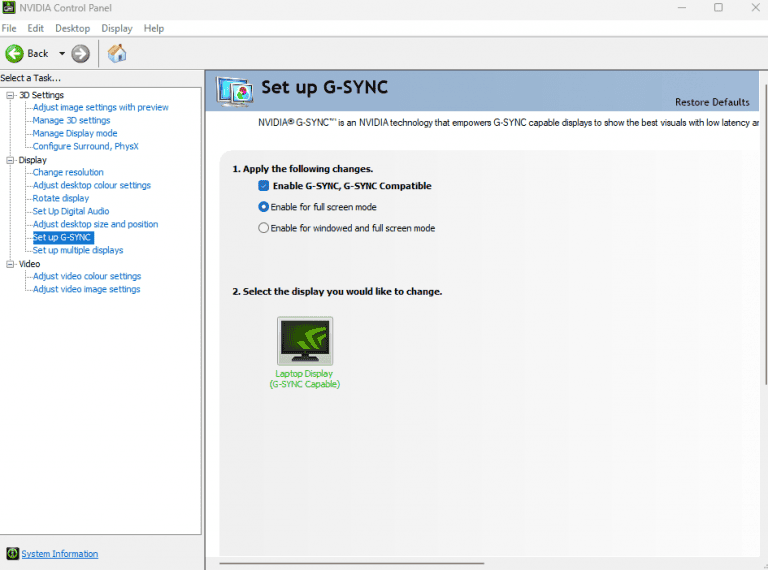 The Alienware X17 R2's technology is well-suited to its 360 Hz screen. As the name suggests, it enables a better viewing angle and the ability to reach 360 fps in games. It's clear that this laptop's screen is primarily designed for competitive gamers or those who prioritize high performance in games.
---
Exceptional Configuration and Performance
As mentioned in the earlier table, the Alienware X17 R2 is equipped with an Intel Core i7-12700H processor, which is manufactured using a 10 nm process by TSMC. This 14-core CPU (6 Performance-Core, 8 Efficiency-Core) has already proven to be successful thanks to its hybrid Alder Lake architecture, which combines performance cores and efficiency cores.
The performance cores are optimized for software used, and the efficiency cores handle background tasks as they are single-threaded.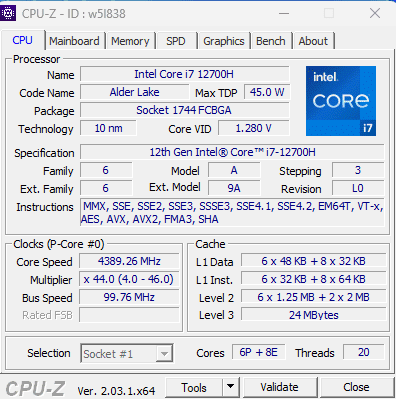 These Cinebench R23 benchmarks were conducted without any CPU overclocking and with a maximum frequency of 2.69 GHz.
It's worth noting that the Alienware X17 R2 is not intended for general use, such as taking classes, due to its size and weight. Therefore, it's important to focus on its in-game performance when evaluating it as a gaming PC.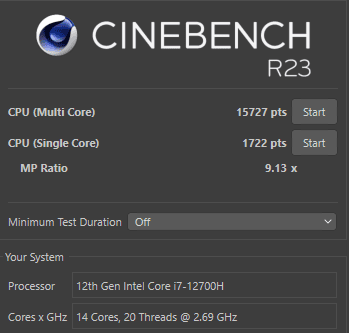 ---
In-Game Performance
Finally, the most interesting aspect of the Alienware X17 R2 is its in-game performance. Although it may not have the best thermals and high temperatures, it excels in gaming.
I tested the Alienware X17 R2 with two games, Cyberpunk 2077 and The Witcher 3 (RTX), to push it to its limits. On Cyberpunk 2077, the laptop performed exceptionally well thanks to its Nvidia GeForce RTX 3080 Ti graphics card and 16 GB GDDR6 of video memory. The Ampere architecture of the graphics chip allowed me to take advantage of DLSS 2, and most importantly, Ray-Tracing on these two demanding games.
The Full HD panel allowed me to reach 60 fps on Cyberpunk with the graphics options maxed out, including the FOV. Ray-Tracing in Ultra and DLSS in Quality mode allowed for very good performance, even in resource-intensive areas like city centers with buildings and smoke effects.
On The Witcher 3, I tested the Alienware in different locations, including Chestspine Swamp which makes the graphics card work quite a bit for ray-tracing water reflections. But the performance was even more impressive in the Toussaint region, where ray-tracing can express itself even better with the reflections of the sun.
The capture was taken with all the graphic options pushed to the bottom and the DLSS in Quality mode. Performance up to 80 fps was achieved in heavily populated areas of the game, which says a lot about the power of the portable RTX 3080 Ti. On Overwatch 2, it's no surprise that I was able to reach the limit of the screen, namely 360 fps, no complaints about that.
In terms of gaming performance, the Alienware X17 R2 is excellent. The combination of the i7-12700H processor and RTX 3080 Ti graphics card is a winning combination. The PC may run a bit hot during intense gaming sessions, but the fan and overclocking settings can help mitigate this. The Alienware X17 R2 is a top-performing gaming laptop.
My Alienware Software
The Alienware X17 R2 comes with My Alienware software, which allows you to access various downloadable modules on the Microsoft Store. Once updated, you can choose the modules that you wish to install.
The Alienware Command Center allows you to monitor the performance of the PC, including the frequency of the CPU and GPU, the speed of the fans, and the ability to overclock the machine for even more performance.
The F1 key has a shortcut that allows you to quickly launch the performance mode, which boosts fps. However, given the powerful specs of the machine, this may not be necessary.
Autonomy: Pros & Cons
Alienware X17 R2 Pros:
Battery life of around 7-8 hours in office tasks (with backlighting off) and around 2 hours while gaming
Suitable for use as a desktop replacement due to weight and size
Comes with a 330 W charger with a relatively lightweight transformer
Good selection of ports and a 1 TB M2 NVMe SSD that is very fast
Simple overclocking
Can be quite noisy at times and LCD panel tends to leak light when playing in dark environments
Low battery life and high price
Excellent gaming performance with a distinctive design
Combination of Core i7-12700H processor and RTX 3080 Ti graphics card for stable and high performance in demanding games
Full HD 360 Hz screen for competitive gaming and smoothness
High-class, high-performance luxury machine with some drawbacks.
Alienware X17 R2 Cons:
The microSD card slot is located at the rear of the laptop which can be inconvenient for frequently moving files.
The laptop is quite large and heavy, making it difficult to carry around.
The price is high.