If you've deleted a story, it has expired, or you want to recover your oldest stories, it's easier than you think. You can revive memories, republish them, or even check something by recovering your old stories.
Uncover Your 'Abandoned' Instagram Stories Easily
Instagram is an app that has both problems and successes. One of its most popular features among users is the Stories feature. These are content that are deleted 24 hours after they are posted, but they are not actually deleted from your account, they are just hidden. You can access them easily by following these steps:
Log into your account on the app.
Go to your profile.
At the top of the screen, you will see three horizontal stripes. Press on it to access more options.
Go to the "Tools" option.
Select "Archive" and choose "Stories" (there are also options for "Publications" and "Direct"). You will now be able to view your old Stories.
You can choose a story to share, view on the calendar, highlight, send privately, or see more information about.
Repeat the process for as many stories as you wish to access.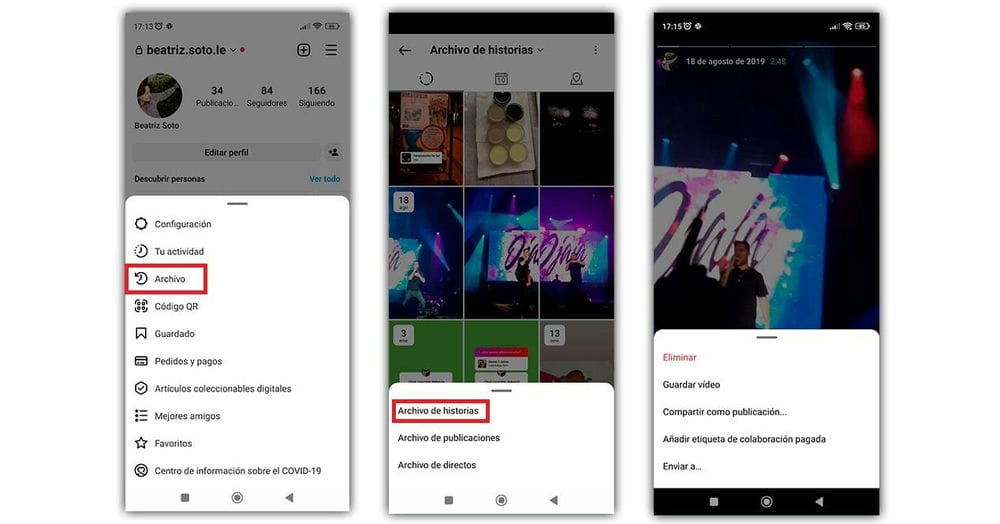 With all of your old stories accessible, you have the option to mark them as a paid collaboration or edit them before reposting. You can easily return to this section by following the same steps as before.
If you wish to make your old stories more easily accessible and organized for others to view, you can search for them in the archive and highlight them using the options that appear on the content itself.
Log into your account
To log into your account:
Go to your profile
At the top of the screen, you will see three horizontal stripes. Press on it to access more options.
Go to the "File" option.
Select "Stories"
Below you will see the "Highlight" option, click on it.
Write the name you want to give the highlight, then click "Add"
Alternatively, you can also go to your profile and access the "Featured Stories" section, then:
Go to your profile
Move to where it says "Featured Stories"
Press on "New"
The stories will appear and you can choose the one that interests you.
Mark the story by clicking on the circle inside the image
Go to "next" and give it a name, then click "Confirm"
With either option, when you return to your profile you will see that the story is highlighted. You can add more if you wish, until you complete your profile to your liking.
As you can see, both seeing the stories you've published in the past and reusing them for whatever you want, or highlighting them, is very simple and it won't take you more than a minute.