After the successful launch of the RTX 4090 and RTX 4080, which introduced support for the highly-anticipated DLSS 3, Nvidia is now turning its attention to a different audience: gamers who want high performance but are not willing to spend exorbitant amounts of money. The question is, will the RTX 4070 Ti be the graphics card that delivers on both performance and affordability?
Before diving into the test, it's important to note that the RTX 4090 and 4080 have already been extensively reviewed and discussed. This review will focus specifically on the performance and unique features of the RTX 4070 Ti.
Buy the RTX 4070 Ti graphics card from $799 at Amazon
Introducing the GeForce RTX 4070 Ti Graphics Card
The RTX 4080 12 GB, one of the three graphics cards announced by Nvidia in September, has made a return after an initial communication mix-up caused confusion among gamers. The RTX 4080 12 GB will now be targeted towards hardcore gamers who want to experience 4K gaming at over 120 fps.
Rumors of an RTX 4070 Ti began circulating soon after the initial announcement, with some speculating that it would take over the technical specifications of the RTX 4080 12 GB. However, it has been revealed that the RTX 4070 Ti is actually the same card as the RTX 4080 12 GB, with a new name given to it.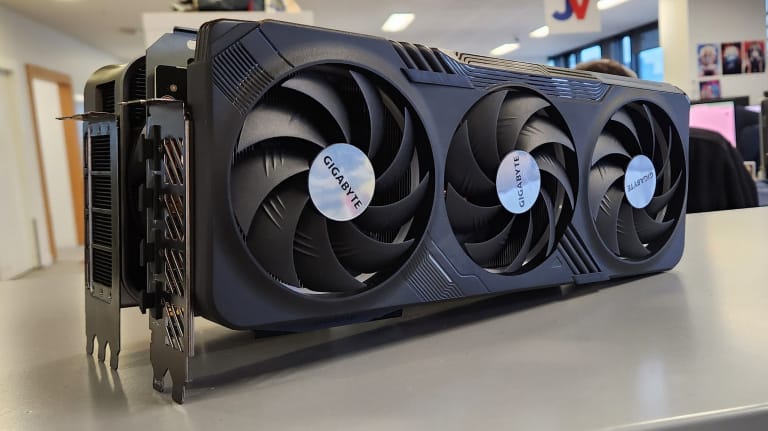 In every generation of graphics cards, the mid-range models are the most popular among gamers. This is because they offer a balance of performance and affordability. This trend can be seen in past models such as the GTX 970, GTX 1070, RTX 2070, RTX 3070, and now the RTX 4070. The Ti versions of these cards, which generally arrive later, provide an additional option for players.
| | | | | |
| --- | --- | --- | --- | --- |
| | RTX 3080 | RTX 4070 Ti | RTX 4080 | RTX 4090 |
| CUDA Cores | 8704 | 7680 | 9728 | 16384 |
| Tensor Cores | 272 (3rd gen) | 240 | 304 | 512 |
| RT Cores | 68 (2nd gen) | 60 | 76 | 128 |
| Video memory | 10 GB GDDR6X | 12 GB GDDR6X | 16 GB GDDR6X | 24 GB GDDR6X |
| Frequency "boost" | 1710 MHz | 2610 MHz | 2505 MHz | 2520 MHz |
| TGP | 320 watts | 285 watts | 320 watts | 450 watts |
| MSRP price | $759 | $799 | $1469 | $1949 |
Our Test Protocol Details
We have recently updated our test protocols and test machines with the release of the new Ada Lovelace architectures from Nvidia for the RTX 4000 and RDNA 3 from AMD for the Radeon RX 7000s.
Our reference test machine for the RTX 4070 Ti includes the following components:
Processor: Intel Core i9-13900K
Motherboard: Asus ROG STRIX Z790-A GAMING WIFI D4
RAM: 16 GB (8 GB x 2) DDR4 3600
Power supply: Corsair RM1000X
Watercooling: Arctic Liquid Freezer II 240
Graphics card: Gigabyte GeForce RTX 4070 Ti Gaming OC 12G
Screens: MSI Optix MEG381CQR Plus and Samsung Odyssey G7 28" 4K
SSD: Samsung 980 Pro 1 TB
We are using the following games for our testing:
Cyberpunk 2077 (with DLSS 3 beta patch)
Microsoft Flight Simulator (DLSS 3)
F1 2022 (DLSS 3)
Horizon Zero Dawn (DLSS 2)
World of Warcraft (No integrated DLSS)
From our initial testing, the RTX 4070 Ti has proven to be even more impressive than the RTX 4090 and 4080.
Did you find the RTX 4090 and 4080 impressive?
The RTX 4070 Ti is an impressive graphics card that has exceeded our expectations. Its size is slightly larger than its predecessors, the RTX 4090 and 4080, but it is still manageable. However, it's important to check the available space in your PC to ensure that the card will fit before purchasing.

One of the standout features of the RTX 4070 Ti is its power consumption, which is significantly lower than the RTX 4090 and 3090 Ti, despite offering similar performance. Additionally, the noise level during gaming is minimal, making it a great option for both gaming and office use.

In terms of performance, the RTX 4070 Ti excels at 1440p gaming, offering high frame rates and smooth gameplay. It is also capable of handling 4K gaming at 60fps. Overall, the RTX 4070 Ti is the new queen of gaming at 1440p and a great option for those looking for a high-performance graphics card without the need for 8K or dual 4K resolution.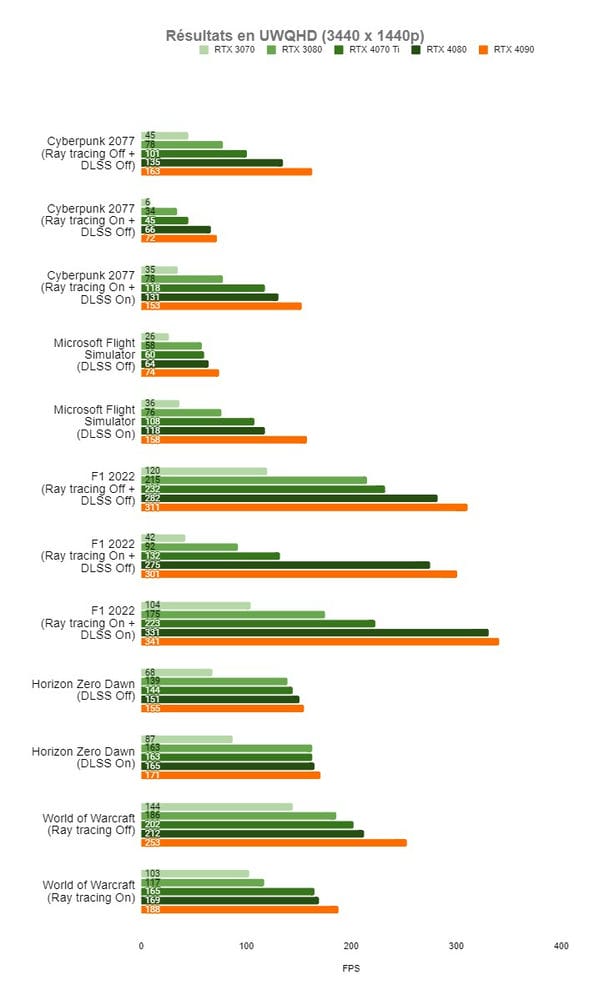 The RTX 4070 Ti is a powerful graphics card that delivers on Nvidia's promise of high-performance gaming. The card excels at 1440p resolution, running games at over 100 fps and even higher with the use of DLSS 3 technology.
Games such as Cyberpunk 2077, Flight Simulator, and F1 2022 all ran smoothly with maximum settings and high frame rates. Even games that do not benefit from DLSS 3, such as Horizon Zero Dawn and World of Warcraft: Dragonflight, still performed well with frame rates of 163 and 202 fps respectively.
Additionally, the RTX 4070 Ti also performs well in 4K resolution. Although it may not be able to achieve frame rates above 120 fps, it still delivers solid performance with frame rates around 86 fps on Cyberpunk 2077, 108 fps on Flight Simulator, and 131 fps on F1 2022.
For those with a 4K display at 60 or even 120Hz, this card is comfortable for 4K gaming. Overall, the RTX 4070 Ti is a great option for those looking for high-performance gaming at 1440p or 4K resolution.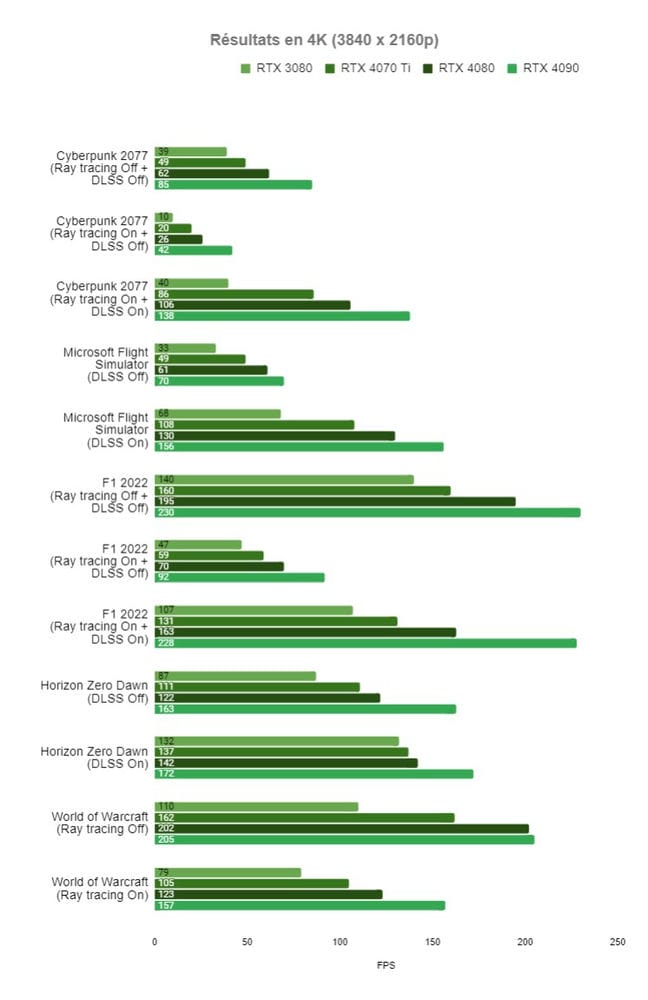 Nvidia has released the RTX 4070 Ti, the cheapest card of this generation, with an MSRP of $799. This comes after the release of the more affordable Radeon RX 7900 XT and 7900 XTX from AMD. While the RTX 4070 Ti may be 30-40% more expensive than a 3070 Ti, it offers performance equivalent to an RTX 3090 Ti, better consumption, less noise pollution, and access to DLSS 3 for a much lower price than the RTX 3090 Ti ($1999 when it was released).
Compared to the RTX 4080, the performance of the RTX 4070 Ti is between 15-20% lower but with a considerable price difference of $570. The card is available as "custom" models and all partners are offering models at the MSRP of $799, making it a great option for those looking for high-performance gaming at a reasonable price.
Buy the RTX 4070 Ti graphics card from $799 at Amazon
Editor's Verdict
Pros:
Excellent performances in 1440p and surprising in 4K
DLSS 3 is a game changer
Very silent card
Controlled consumption
Best current quality/price ratio
Cons:
The size is between 32 and 34 cm long
In November 2022, the GeForce RTX 4080 was released to the market with impressive performance capabilities. However, its exorbitant price and slight overweight caused some concern among consumers. It's said that the high price tag was the main reason why some gamers opted for its bigger sister, the RTX 4090, which is more appealing to professionals and creators. The recommended price for a Founder's Edition model of the RTX 4080 is $1469, which is a significant investment.
As a solution to this problem, Nvidia has introduced the RTX 4070 Ti, formerly known as the "RTX 4080 12 GB". This new graphics card offers similar performance to the RTX 4080, but at a more affordable price point. In response to competition from AMD's Radeon RX 7900 XT and 7900 XTX, Nvidia pressured its partners to offer "Founder's Edition" models at the recommended price of $799. At this price point, it's clear that the RTX 4070 Ti with DLSS 3 is the best current option for gamers looking to upgrade their graphics card in 2023.