As the 2023 winter sales reach their midpoint, shoppers can still find great deals on PC gaming monitors. Brands such as Samsung, MSI, and Asus are offering significant discounts on their products, but supplies are limited. These offers are sure to entice even the most casual gamers to jump back into their favorite video games.
2023 Winter Sales: Exceptional Deals on PC Gaming Monitors
PC gamers are well aware that computer equipment can be costly, which is why many opt to wait for sales before making a purchase. Recently, the prices for PC gaming monitors have risen, making it difficult to find a great deal. However, with patience and the right resources, it is possible to find a high-quality monitor at an affordable price.
When searching for a gaming monitor, it's important to consider various factors such as response time and refresh rate, as well as personal preferences like whether you prefer a curved or flat screen.
Our team at GoStart.Biz has meticulously researched and analyzed the technical specifications of various monitors in order to recommend only the best options. Additionally, during this sales period, we have made sure to select the most competitive prices available.
Top Deals on PC Gaming Monitors
MSI Optix MAG251RX PC Gaming Monitor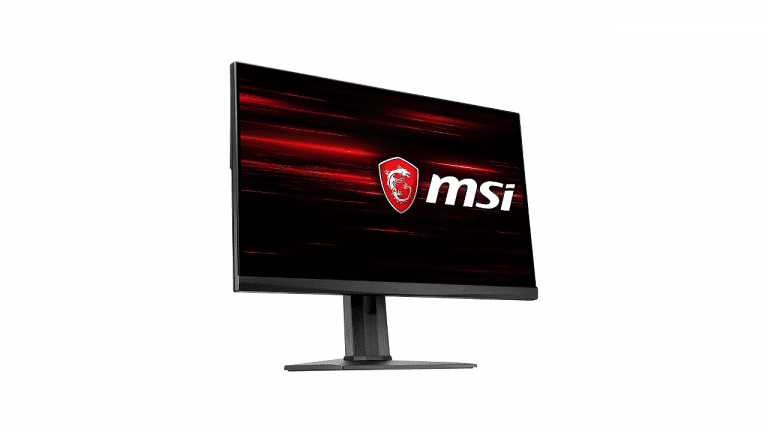 After investing in a high-performance gaming PC, it's understandable that you don't want to spend more money on a new gaming monitor. The 24.5-inch MSI monitor is a great option for those who don't need a massive screen. It offers a high level of gaming performance with a 1ms latency and a smooth 240 Hz refresh rate. The refresh rate, measured in Hz, determines the number of images per second the screen can display.
In terms of connectivity, this monitor offers two HDMI 2.0 ports and a Display Port 1.4. The Optix also boasts ultra-thin borders and seamless image continuity when using multiple monitors.
Buy 24.5-inch MSI Optix MAG251RX at $289 on Amazon
---
27-inch Samsung Odyssey G3A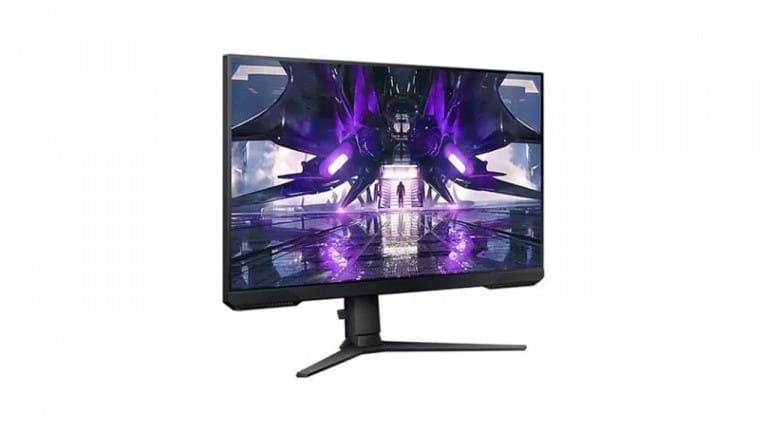 The Samsung Odyssey range introduces a new screen that is specifically designed for gaming use while also being budget-friendly. This aligns with the company's strategy to provide accessible products.
In terms of design, the screen boasts ultra-thin edges, making it visually appealing. The foot may be imposing, but it serves to ensure stability and allows for a multi-screen configuration without compromising visibility.
Furthermore, Samsung has implemented Freesync Premium technology to ensure optimal fluidity and smooth rendering. The VA panel has a 165 Hz refresh rate, which is compatible with most configurations.
Overall, the Samsung Odyssey screen offers great performance at an affordable price, making it a popular choice among consumers. It's a great opportunity for customers to take advantage of sales and purchase this product.
---
Samsung Odyssey Neo G9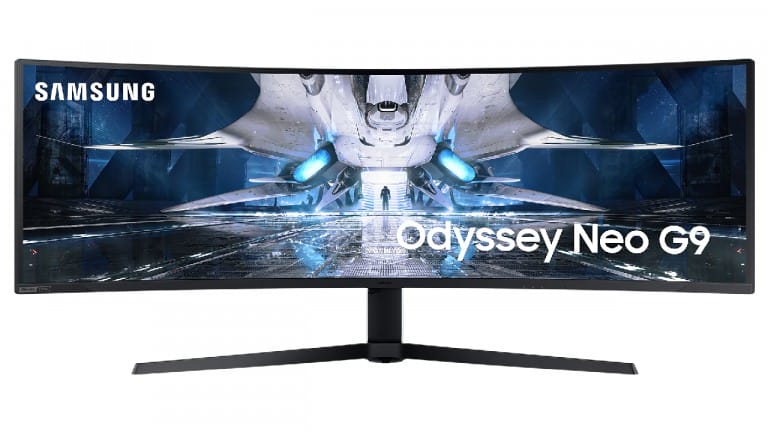 The Samsung Odyssey Neo G9 is a top-of-the-line PC gaming monitor, earning the title of "king of PC gaming monitors." Its impressive 49-inch size and DQHD resolution of 5120×1440 pixels, equivalent to two 27-inch QHD resolution screens side by side, is truly remarkable. This screen is capable of fulfilling all your needs on its own.
The monitor's features are specifically optimized for gaming. Despite its large size, it maintains a lightning-fast response time of only 1ms, with a refresh rate of 240 Hz. Additionally, it is compatible with both AMD FreeSync Premium Pro and Nvidia G-Sync, ensuring seamless gameplay at 240 frames per second without any tearing or flickering, regardless of your GPU brand.
To fully take advantage of this behemoth, we recommend using a graphics card with at least the power of an RTX 3070 or RX 6800XT. It is still possible to use it with a weaker graphics card, but it would be more cost-effective to upgrade your configuration with this investment.
The monitor's unique 32/9 aspect ratio and 1000R curve offers an ultra-immersive experience. The image quality is also top-notch thanks to the Quantum Mini-LEDs and it is compatible with HDR ( High Dynamic Range), with Quantum HDR 2000, it can reach 2000cd/m².
Buy Samsung Odyssey Neo G9 at $1,699 at Amazon
---
Samsung Odyssey Ark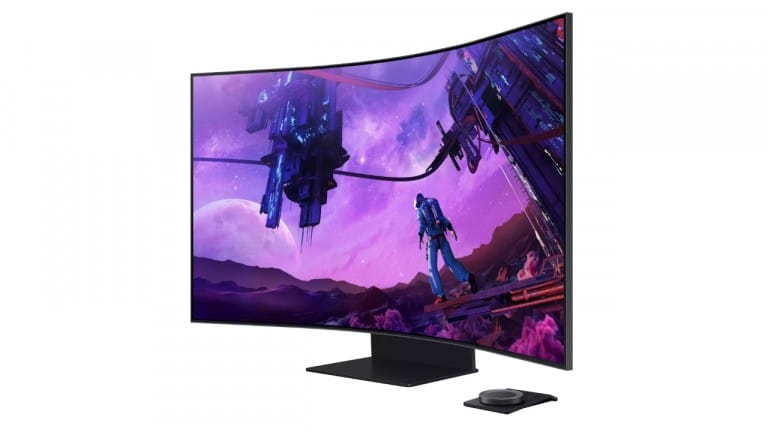 The Samsung Odyssey Ark sits between a PC monitor and a smart TV, offering a 55-inch VA panel with a 4K resolution of 3840×2160, a 165Hz refresh rate, and a response time of 1ms. Additionally, the matte finish on the screen prevents unsightly reflections.
The Mini LED technology is also present to ensure a high level of precision and brightness. Moreover, the VA panel offers a 178-degree viewing angle for an immersive experience.
From a technical standpoint, the screen is impressive, but it's important to have a powerful enough PC to fully utilize its capabilities in 4K resolution. A graphics card like the RTX 3080 or RX 6800XT is recommended to achieve this.
The Odyssey Ark stands out with its hybrid approach, blending the features of a TV and a PC monitor, and its ability to easily rotate. This allows for a versatile and flexible viewing experience.
Buy the Odyssey Ark at $2,799 from Amazon
---
32-inch Samsung Smart Monitor M70B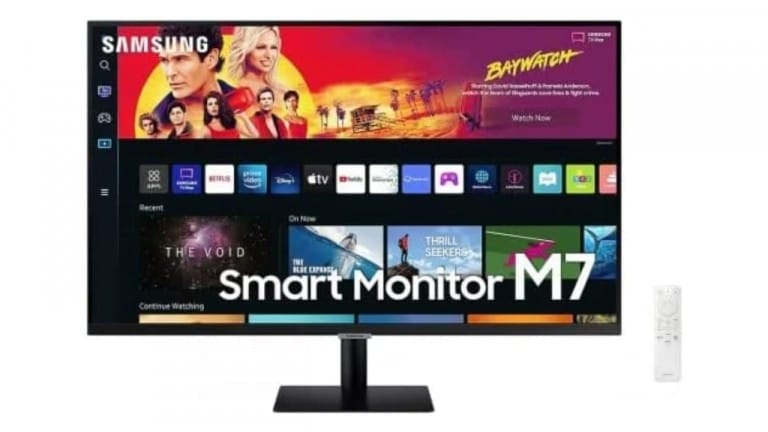 The Samsung PC gamer screen features the Tyzen interface, which is similar to the one found on Smart TVs, and includes a variety of applications that allow you to access a wide range of online services and content. The package also includes a small remote control that makes it easy for users to navigate through the different menus and access their favorite streaming services such as Netflix, Prime Video, Disney+, and Twitch.
The remote control not only allows you to switch between menus, but also makes it easy to adjust the screen's settings without navigating through complex menus.
The screen has a response time of 4ms and a refresh rate of 60Hz. While this may not be suitable for intensive gaming, it is still capable of handling less demanding games without any issues. Competitive gamers who are looking for a faster response time and higher refresh rate, should consider a screen with a 1ms response time and at least 144Hz refresh rate.
Buy 32-inch M70B Smart Monitor at $299.99 at Amazon
---
Asus TUF Gaming Monitor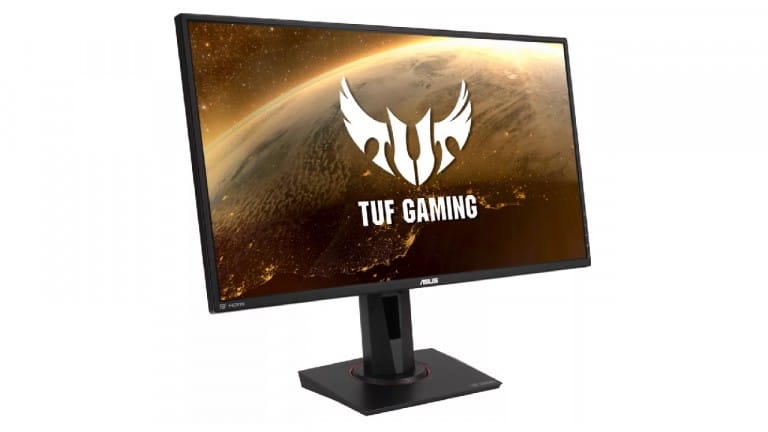 The Asus TUF VG27AQZ is a high-performance gaming monitor that is perfect for configurations with an RTX 3060 or higher graphics card. It's 2560×1440 resolution is optimized for Ray Tracing, it is recommended to use an RTX 3070 or more to take full advantage of this feature.
The 27-inch IPS panel offers a smooth gaming experience with a 165Hz refresh rate and a response time of only 1ms. It is fully compatible with Nvidia G-Sync, which eliminates image tearing and stuttering when using an Nvidia graphics card.
It's worth noting that the refresh rate, measured in Hz, represents the number of images the screen can display per second.
This monitor features a flat 16:9 aspect ratio and has HDMI 2.0 and Display Port connections. Additionally, it has built-in 2-watt speakers, saving you the cost of purchasing additional speakers.