Samsung has released its final model in the 990 Pro series, paying homage to a generation that saw significant advancements in SSD speeds. With Sony's incorporation of PCI Express 4.0 technology in its PS5, this generation will be remembered as a pivotal moment in the competition for faster data transfer rates.
But does the 990 Pro live up to its predecessors and meet expectations? We will provide an immediate answer.
Introducing the NVME M.2 Samsung 990 Pro SSD: Features and Specs
The Samsung 990 Pro SSD is the successor to the 980 Pro (Gen 4) and 970 Pro (Gen 3) and was intended to be the flagship of the Gen 5 NVME M.2 SSDs in PCI Express 5.0. Samsung developed its own controller, named "Pascal," to power the new generation.
Due to shortages of electronic components and the impact of COVID-19 on production, the general public has not yet widely adopted the new generation of SSDs. In response, Intel decided to make its 13th generation processors compatible with both PCI Express 4.0 and 5.0, minimizing the need for consumers to upgrade their motherboards.
Given these circumstances, releasing a Gen 5 SSD, which would have been significantly more expensive, in the near future would not have made sense. Instead, Samsung decided to release the 990 Pro with PCI Express 4.0, ensuring compatibility for consumers and still providing a high-performance SSD.
| | |
| --- | --- |
| | Specifications |
| Compatibility | PC (M2 NVMe PCIe Gen 4), PS5 |
| Read speed | Up to 7450 MB/s |
| Write speed | Up to 6900 MB/s |
| IOPS (inputs-outputs per second) | 1,550,000 IOPS |
| Endurance | Up to 600 TB |
| Warranty | 5 years |
| Introductory price | $169.99 |
Buy Samsung 990 Pro NVMe M.2 SSD on Amazon
Buy M.2 Heatsink Cooler 2280 SSD Double-Sided Heat Sink on Amazon
XXL Performance
The design of the 990 Pro is similar to that of its predecessors, the 980 Pro and 970 Pro. It has the same size of 22mm wide and 80mm long, and the same thinness. It can be easily integrated into any system, whether a PC or PS5.
During our test, we found that the Samsung 990 Pro is the perfect SSD for both PC and PS5. However, it's worth noting that it is currently not available for purchase on Samsung's semiconductor website or on other online sales sites. Despite this, it is still possible to use this SSD with the PS5 as it is fully compatible.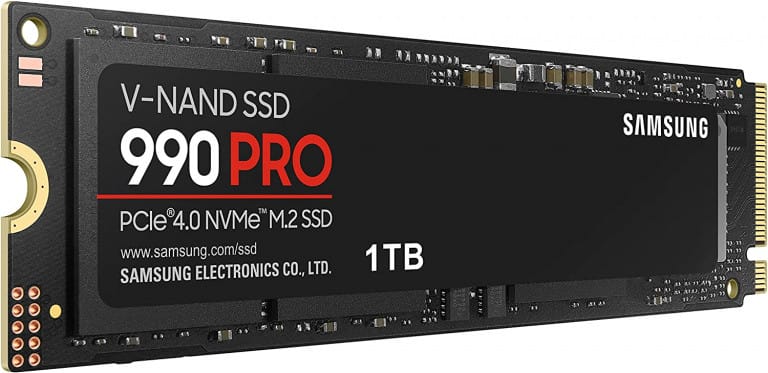 The label on top and bottom of the SSD serves as a heat sink, and the dynamic temperature management feature protects the SSD from overheating. If you want to take extra precautions, adding a physical heatsink will only cost around 8 USD. This is a reasonable investment if you are concerned about the performance of your SSD being limited by Sony.
Samsung 990 Pro vs 980 Pro: A Side-by-Side Comparison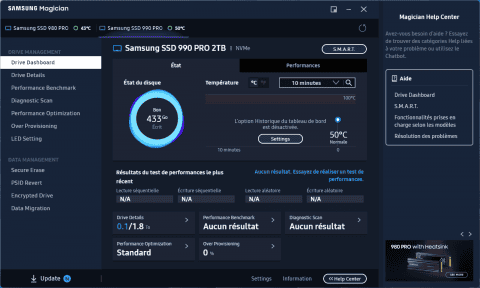 In terms of temperature, we recorded a temperature of 26 degrees when idle and a peak of 53 degrees under full load. Overall, these results are acceptable.
Lastly, we want to mention the Samsung Magician software, which remains comprehensive and user-friendly. Not only can you update the firmware as needed, but you can also run diagnostics or optimize the performance based on your usage. It's simple, comprehensive and effective.
Autonomy (Features)
Extreme performance
Does not heat up too much
Compatible with PC and PS5
Symbolic bar of 7000 MB/s exceeded
Predecessor, the 980 Pro, had real figures around 6500 MB/s
Suitable for boosting PC or increasing storage of PS5 (in Heatsink version or with a third-party heatsink)
Best possible road companion for machine.
Buy Samsung 990 Pro NVMe M.2 SSD on Amazon
Buy M.2 Heatsink Cooler 2280 SSD Double-Sided Heat Sink on Amazon