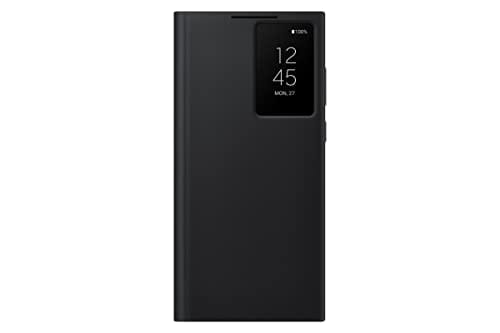 SamsungClick Buy Now for Updated Price. Estimated Price: $49.99
Samsung Galaxy S22 Ultra S-View Flip Cover, Protective Phone Case, Tap Control, Cutting Edge Design, US Version, Black, (EF-ZS908CBEGUS)
The Samsung Galaxy S22 Ultra S-View Flip Cover is a protective phone case with a cutting edge design.
The cover has a display size of 6.8 inches, allowing you to stay on top of alerts and notifications without opening the cover.
Icons on the cover keep you informed of important information like text messages, battery life, and the time.
The cover also has easy tap control, allowing you to use your smartphone without touching the screen.
You can perform basic functions like answering or rejecting calls and pausing your music by simply touching the cover.
The S-View Flip Cover also features a clear strip along the side, allowing your phone to peek out and adding a sleek touch to the design.
The case protects your phone from all sides, with the flip cover on the front and a case on the back.
The cover fits snugly to secure the exterior parts of your phone, such as the camera and buttons.