Foldable smartphones that have hit the market in recent years have made it possible to carry a large screen, approximately the size of a tablet, in a device with the dimensions of a mobile phone.
Now, the next step is to make these screens even bigger. Samsung has achieved this with a new screen called Flex Hybrid, which will be unveiled for the first time this week at the CES in Las Vegas.
This is a foldable screen like the one already used in devices such as the Galaxy Fold, but in addition to unfolding, it can also extend on one side a few centimeters more to reach dimensions of 12.4 inches with a 16:10 aspect ratio, the typical ratio for watching movies or TV shows.
Fully folded and rolled up, this screen can be integrated into a mobile device with dimensions very similar to those of the aforementioned Galaxy Fold.
Along with this new concept, Samsung will also showcase a 17-inch screen that also features an innovative deployment and rolling mechanism. Samsung announced this screen at the end of 2022, but it can be seen in operation for the first time at the fair with two variants, Flex Slidable Solo, which expands in one direction, and Flex Slidable Duet, which expands on both sides of the screen. Once folded, this 17-inch screen becomes only 13 or 14 inches diagonally in a much more landscape aspect ratio.
These will not be the only new display developments from the company. Last year, the company showcased its first TVs equipped with QD-OLED technology, which offers higher brightness than conventional OLED panels. This year, the Korean company has managed to improve the brightness even more, reaching up to 2,000 nits.
The technology will also be integrated into a 77-inch screen that complements the 55 and 65-inch screens already presented. QD-OLED will also be integrated into the company's new gaming-oriented monitor, the Odyssey OLED G9, with a 49-inch diagonal and ultrawide display.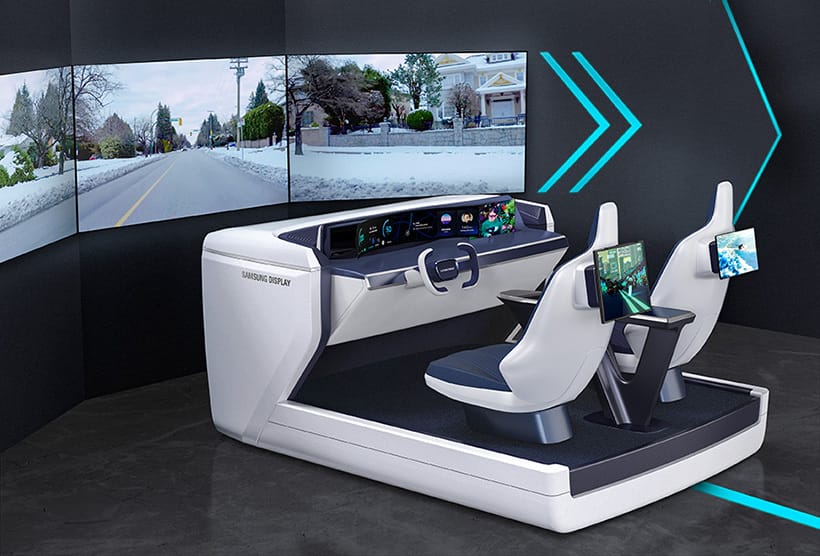 The South Korean company will also bring its display technology to car dashboards for the first time. New Digital Cockpit is their prototype for autonomous vehicle control panels. It combines a 34-inch curved screen located behind the steering wheel with a 15.6-inch screen in front of the co-pilot seat.