The SteelSeries brand has solidified itself as a leading name in the gaming industry, and its Arctis 1 headset is no exception. The headset is now compatible with PC, PS5 and Xbox, making it even more versatile and appealing to gamers.
As a manufacturer of gaming accessories, SteelSeries has a reputation for producing products that stand out from the crowd. Among their offerings, the Arctis 1 Wireless headset has earned a reputation for its exceptional quality and performance.
Buy the Arctis 1 Wireless at 99$ at Amazon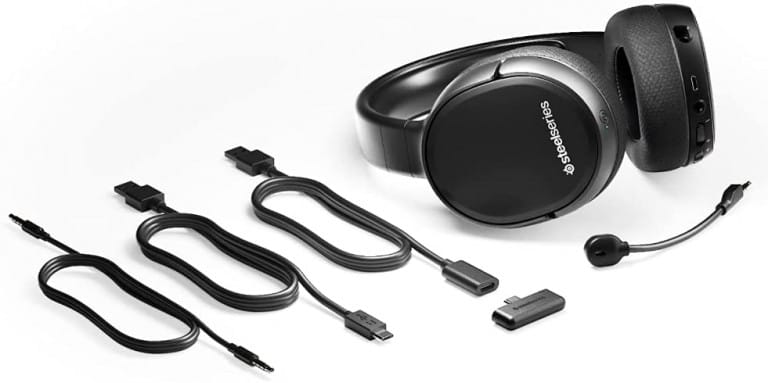 High-Quality Audio, Comfort, Easy Connectivity for Gamers
The SteelSeries Arctis 1 Wireless headset is the perfect choice for gamers looking for high-quality audio and comfort. Connecting the headset to your gaming device is a breeze, as it comes with a small USC-C dongle (with an included USB-A adapter) that simply needs to be plugged into your PS4, PS5, Xbox, Nintendo Switch, or PC for an automatic connection. The headset also features a mini-jack port for wired connection options.
The Arctis 1 delivers exceptional stereo sound, with deep bass being a particularly notable feature. The sound balance is suitable for all types of games and while it may not be the most advanced audio reproduction on the market, it certainly offers exceptional value for its price point.
In terms of design, the headset boasts a sturdy metal headband and ear cups made of fine, breathable foam that sit on ball joints, allowing for heat to dissipate while ensuring maximum comfort during use.
Finally, the Arctis 1 also includes a removable ClearCast microphone, certified by Discord, making it perfect for multiplayer gaming sessions. Our team gave it a rating of 18 out of 20 in our test, and it is available at this address.
Buy the Arctis 1 Wireless at 99$ at Amazon
Optimal PS5 Compat, Ultra-Low Latency, Portable & Durable
For optimal compatibility with the Sony PS5, users will need to adjust settings by disabling Sony 3D Audio and increasing the default volume to 100%. The SteelSeries Arctis 1 Wireless headset offers lossless 2.4GHz wireless connectivity for ultra-low latency on Xbox and PC.
Gamers can also enjoy the same wireless performance on the go, thanks to the compact and portable USB-C dongle that can be used with Nintendo Switch and Android phones.
The headset features a detachable ClearCast noise-canceling microphone that delivers natural-sounding clarity, and it is Discord-certified. It is also compatible with the Xbox Series X. The padded AirWeave ear cushions and adjustable, steel-reinforced headband ensure lasting comfort and durability for extended gaming sessions.
Pros:
Great wireless option
Long battery life
Exceptional stereo sound with deep bass
Sound profile is great for both Xbox and Nintendo Switch
Over-ear design and sound profile provide good noise cancellation
Volume knob allows easy control of volume
Detachable microphone has good sound quality
Great value for money
Cons:
Sound may not be the most advanced audio reproduction on the market.
The volume knob makes it difficult to have a conversation while wearing the headset.