Introducing a powerful and versatile mobile application, designed to enhance the performance and organization of your smartphone. Unlike many other apps, this one is not pre-installed on all devices, but it certainly should be. The app helps you declutter your phone by providing cleaning recommendations, and makes it easier for you to find and share files with its user-friendly search and navigation features.
In addition to freeing up space on your mobile, this app also allows you to back up your files to the cloud and even protect them with a new lock feature that does not rely on your mobile's security. All of these features are designed to be safe and efficient, consuming minimal space on your device. I have personally installed and used this app, and I can confidently say it is a game-changer for smartphone management and organization. So, what is this mysterious app?
Efficiently Declutter Your Phone with this Mobile App
The application we are referring to and that helps you clean junk from your mobile is Google Files. You can download it in the application store of your mobile or from here.

Download QR-Code
Google Files is a must-have app for managing your smartphone's storage. Once you've installed it, be sure to grant it the necessary permissions for it to function properly. Upon opening the app, you'll be greeted with three main sections: Clean, Explore, and Share.
The Clean section is particularly useful as it allows you to quickly and easily free up space on your device by identifying and removing unnecessary files. You can delete old screenshots, large files, multimedia files from apps like Telegram, downloaded documents, and much more. The app even provides suggestions for files that you may want to delete.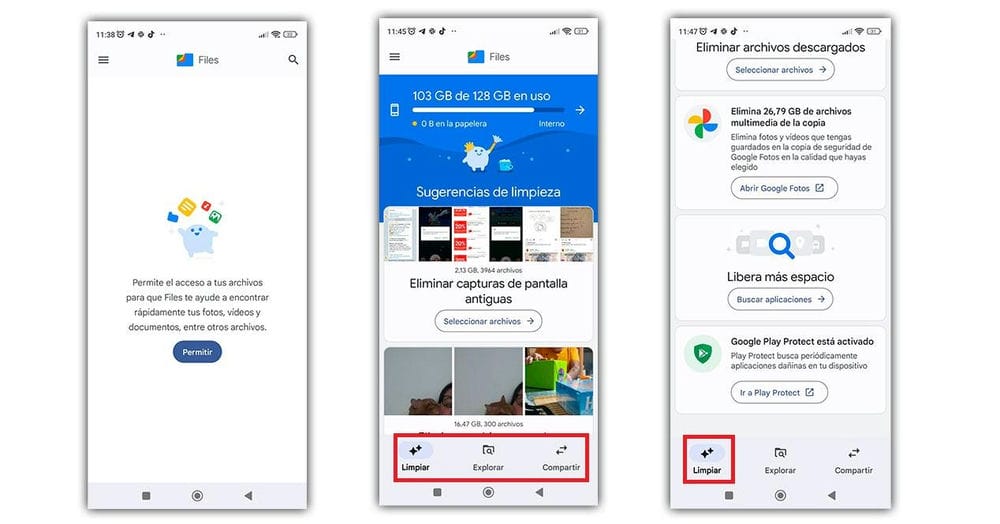 Another useful feature is the ability to permanently delete files from the trash, so they stop taking up valuable space on your mobile. Normally, files in the trash are automatically deleted after 30 days, but with Google Files, you can delete them immediately if you wish.
In addition, Google Files also gives you suggestions to free up space in Google Photos and by searching for apps that you no longer use. From the top of the screen, you can also see a detailed breakdown of how much space all your files are occupying, allowing you to make informed decisions about what to keep and what to delete.
When you select one of the sections, you can choose to delete all the files or select specific ones. The option to delete all files in one go is extremely practical and time-saving. Overall, Google Files is an efficient and user-friendly tool for managing and optimizing your phone's storage.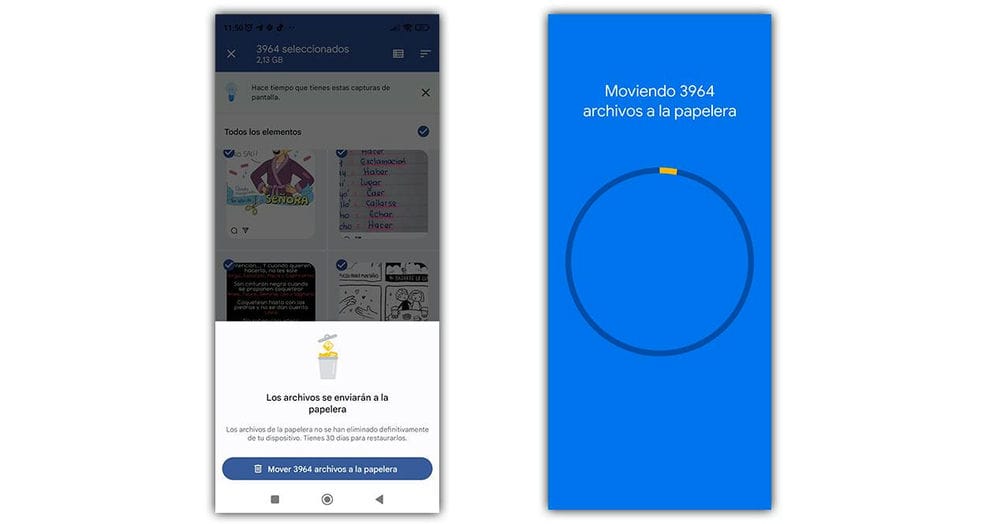 By following the recommendations of Google, you can free up a significant amount of space on your mobile device. However, it's important to be cautious and not to delete any files that you wish to keep. Once you have selected the files to delete, the app will begin the deletion process and you can track its progress.
Discover More Benefits of Google Files: Explore, Favorites, Secure Folder and Nearby Sharing
Google Files offers more than just a cleaning feature, it also has an Explore section that allows you to easily access all the files on your smartphone, organized by categories for convenience. The app also includes a search function, located in the top right corner, making it easy to find specific files.
Additionally, you can create a list of favorites for quick access and if you want to keep certain files private, you can upload them to the secure folder feature. This feature keeps your files safe from unwanted access, and the app guides you through the process of enabling it.
The app also includes a feature called Nearby, which allows for easy and secure sharing of files with other devices. With Nearby, you can quickly send and receive files in a matter of seconds. Overall, Google Files is a comprehensive and user-friendly tool for managing, organizing, and sharing your smartphone's files.