Lee Iacocca, a famous businessman who worked hard at the Chrysler Automobile Company when it was on the verge of bankruptcy, took the position of its CEO. Cougar and Mercury Marquis.
He was a distinguished employee of the Ford company and most recently became its president, and he had unconventional business ideas, and he had a hard-line management style that brought him into conflict with the company's owner Henry Ford II, who fired him.
Despite the shock of his dismissal from a company in which he worked for more than three decades, he decided to work in the automotive field itself, as he received an invitation from the Chrysler Automobile Company, which was suffering from heavy losses, and there he proved that losing work at Ford is a gain for Chrysler, as he was Part of one of the most famous and important paradigm shifts in the history of the American auto industry by bailing out Chrysler and making it profitable again, he was ranked the 18th best American CEO ever.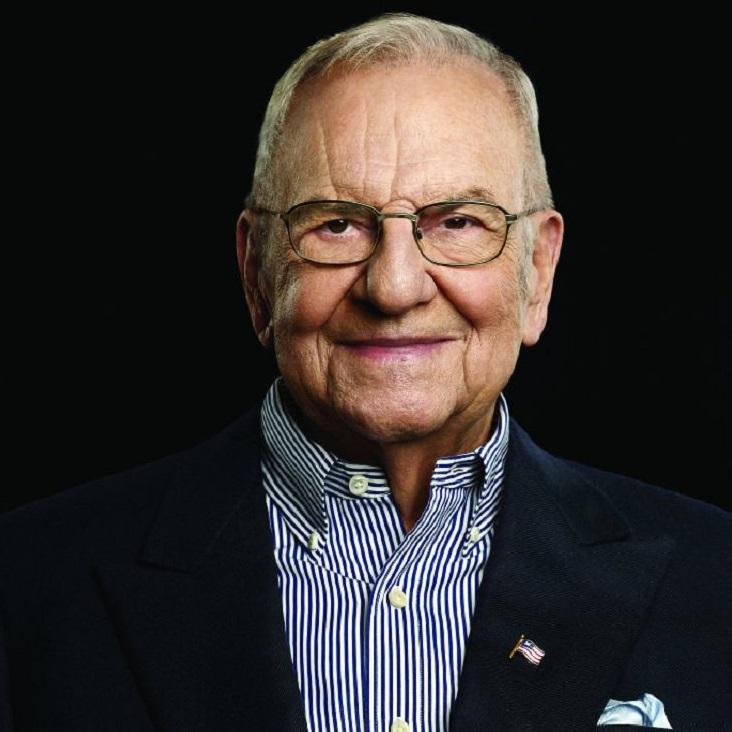 Table of Contents
Beginnings
Iacocca was born in Allentown, Pennsylvania in the United States on October 15, 1924, his parents are Nicola Iacocca and Antonita Perotta, Italian immigrants who worked as a restaurant manager. His father was a veteran businessman with a theater and car rental agency, from whom he inherited a love of cars and management skills Business.
Lee Iacocca graduated from Allentown High School and entered Lehigh University with a degree in industrial engineering, then earned a Wallace Memorial Fellowship to attend Princeton University, and was unable to enlist in the army in World War II for health reasons.
Lee Iacocca joined Ford Motor Company in 1946 as an engineer, then quickly switched to sales and marketing due to his high performance.
He was appointed Assistant Director of Sales for Philadelphia County and was responsible for the "56 for 56" campaign, which included loans and several payment options on various models of 1956 cars, a very successful campaign that made Iacocca a national hero.
He was appointed vice president of the Ford Auto and Truck Group in 1960 and soon became CEO in 1967.
He was instrumental in designing the 1964 Ford Mustang and one of Ford's most successful launches, the Mustang was a sports car with long hoods and a small rear seat.
Vice President Iacocca assisted in the design process of the Lincoln Continental Mark 3, which was sold from 1969 to 1971 in the United States and was a personal luxury car in the Ford Lincoln series.
Iacocca became president of Ford Motor Company in 1970 and his unorthodox management style brought him into conflict with Henry Ford II, the company's chief executive officer and decision-maker, which led to Iacocca's expulsion from the company in 1978.
Personal Life
Lee Iacocca married Mary McCleary in 1956 and they had two daughters, but Mary died of diabetes in 1983, then he remarried to Peggy Johnson in 1986, but they divorced the following year, after which he married Darren Earl in 1991 and divorced her after 3 years.
Due to the death of his first wife from diabetes, he began supporting research into the causes of diabetes, and was a principal sponsor of Faustman's research at Massachusetts Hospital.
Facts about Lee Iacocca
Lee Iacocca played Commissioner Park Lido in an episode of "Miami Vice". His net worth as of 2017, is about $100 million.
Achievements
Chrysler was on the verge of collapse and bankruptcy, so it invited Iacocca to work in the presidency of the company, and indeed he rebuilt the company after joining it by reducing its size and stopping sales in some weak market divisions, in addition to bringing some colleagues from his previous company.
Iacocca contacted the US Congress in 1979 to obtain a loan guarantee because the company needed huge financial investments to be able to come back to life again, and he actually got that guarantee and it was a move that had never happened before.
Under his direction, Chrysler released the Dodge Aries and Plymouth Brilliant production k-Car in 1981, and this car was built based on design proposals that Ford had previously rejected.
Iacocca managed to get a project with former Ford co-worker Sperlish called "Mini-Max" that resulted in the 1983 Dodge Caravan and Plummouth.
This car succeeded, and along with many other drastic repairs, Chrysler managed to reverse its trend and rise to success and was able to pay off its accumulated debts, and even started making profits.
Under Iacocca's leadership, the company was able to acquire AMC in 1987 and thus became a division of Jeep cars, which is one of the most profitable auto companies divisions.
Iacocca became a celebrity and appeared in a number of commercials for the company, and in 1992 retired as its president.
He has also co-authored several books including his best autobiography "Iacocca: An Autobiography" (1984).
FAQ
How did Lee Iacocca contribute to the success of the Ford Motor Company?
Lee Iacocca joined Ford in 1946 and worked in various positions, including sales and marketing. He was responsible for the successful "56 for 56" campaign and played a significant role in the design and launch of the iconic 1964 Ford Mustang. He also contributed to the design of the Lincoln Continental Mark 3. He eventually became president of Ford Motor Company in 1970 but was dismissed in 1978 due to conflicts with Henry Ford II.
What was Lee Iacocca's role in the revival of Chrysler?
After being invited to join Chrysler as its CEO, Iacocca implemented drastic measures such as reducing the company's size, stopping sales in weak market divisions, and securing a loan guarantee from the US Congress. He introduced successful car models like the Dodge Aries, Plymouth Brilliant, Dodge Caravan, and Plymouth Voyager. Under his leadership, Chrysler acquired AMC and the Jeep division, becoming profitable again and repaying its debts.
How did Lee Iacocca's personal life influence his philanthropic efforts?
After the death of his first wife, Mary McCleary, due to diabetes, Iacocca became a supporter of diabetes research. He was a principal sponsor of Dr. Denise Faustman's research at Massachusetts General Hospital, which aimed to find the causes of diabetes and develop treatments for the disease.