If you're planning on starting an eCommerce business or electronic shopping platform in Saudi Arabia, it's important to understand the requirements and licenses needed to legally operate.
Before discussing the requirements for starting an eCommerce business or electronic shopping platform in Saudi Arabia, let's look at some statistics about eCommerce in the country. Currently, there are over 25,000 legally registered eCommerce businesses in Saudi Arabia, which is about 1.2% of the total eCommerce businesses in the world.
The Saudi Arabian market for eCommerce is significant, comprising roughly half of the entire eCommerce market in the Middle East, with a value of approximately 1.5 billion dollars. In order to obtain an eCommerce license in Saudi Arabia, you'll need to meet certain criteria and acquire the necessary licenses to run your business. This guide will provide you with the information you need to get started.
There are many statistics about eCommerce in Saudi Arabia, but they all show that eCommerce in the country is very successful compared to other Arab countries. This is due to the governmental support and privileges given to eCommerce in Saudi Arabia. Starting an eCommerce business in Saudi Arabia is a great idea for residents and citizens.
If you're interested in starting an eCommerce business in Saudi Arabia and want to know the requirements, this article is for you. We have  here the information, so you can get a commercial register for your eCommerce business, whether you are in Saudi Arabia or an investor working on and operating an eCommerce business in the Saudi Arabia from abroad.
eCommerce in Saudi Arabia: Market Stats & Info
The estimated number of Facebook users in Saudi Arabia is more than 14 million, including residents.
8 million people use Instagram in Saudi Arabia.
9 million people use Twitter in Saudi Arabia.
More than half of internet users in Saudi Arabia shop online and buy their needs from eCommerce businesses.
eCommerce in Saudi Arabia ranks first among Egypt and the UAE in this field and is strictly regulated by the Ministry of Commerce.
Saudi eCommerce Law: Understanding the Regulations
Saudi Arabia's eCommerce Law is designed to protect consumers and ensure that electronic traders have the legal right to conduct business. Promulgated by the Ministry of Commerce and Investment in 2019, the law includes 26 articles and is aimed at regulating eCommerce activities, such as selling goods or providing services through electronic means.
Under this law, both consumers and traders are subject to certain requirements in order to obtain a license for eCommerce activities, whether conducted within Saudi Arabia or by foreign entities that sell products within the country.
The law stipulates that an electronic trader's place of residence is considered their place of business if they do not have a physical location, such as a warehouse or store. Additionally, the regulations for an electronic commercial register are similar to those of a traditional commercial register.
It's important to note that the law is focused on the specific requirements for eCommerce in Saudi Arabia and applies to all electronic platforms, including social media websites like Instagram. It's a set of regulations to make sure that any E-Commerce activity is conducted in a legal and fair way for consumers and traders.
eCommerce License in Saudi Arabia
Starting an eCommerce business in Saudi Arabia is relatively straightforward, with the requirements for obtaining an eCommerce license being among the most manageable in the Arab region. To legally operate an eCommerce business in Saudi Arabia, you'll need to meet certain criteria, which are similar to those required for opening a traditional brick-and-mortar store.
Obtaining an electronic commercial register from the Ministry of Commerce and Investment, which can be done entirely online and takes as little as 180 seconds to complete.
Having a bank account in the name of your company or establishment with one of the banks in Saudi Arabia, this is important to be able to manage and process the financial transactions related to your business,
Having an account with a shipping company is also necessary to ensure that products are delivered to customers in a timely manner, and to protect the rights of customers. This will also facilitate to keep a track on the orders, shipment status and also payment process.
All the steps above can be done online, continue reading to go in the steps.
Steps to Start eCommerce Business in Saudi Arabia
After Obtain a business registration for eCommerce from the Ministry of Trade and Investment. You can start eCommerce business in Saudi Arabia by following these steps:
Choose a domain name and name for your eCommerce store.
Choose a suitable hosting company.
Design a logo and colors.
Choose a suitable eCommerce software program.
Secure a payment gateway to accept payments from customers.
Set up a customer service system to handle inquiries and complaints from customers.
Set up a system for shipping and handling orders from customers.
Promote your eCommerce store through marketing and advertising efforts.
It's important to regularly evaluate and enhance your online store in order to maintain customer satisfaction and achieve success. In addition to register your eCommerce in Maroof platform.
What is Maroof?
Maroof is an online service offered by the Saudi Arabian Government in partnership with the private sector company "Business Trust Services". It is not a mandatory requirement for opening an e-commerce store in Saudi Arabia, but aims to enhance trust between customers and online merchants, as well as to help store owners increase their conversion rates.
The platform creates a database that assesses the reliability and professionalism of online stores based on feedback from customers who have had previous interactions with them. Additionally, it verifies that the store is a legitimate, local Saudi company.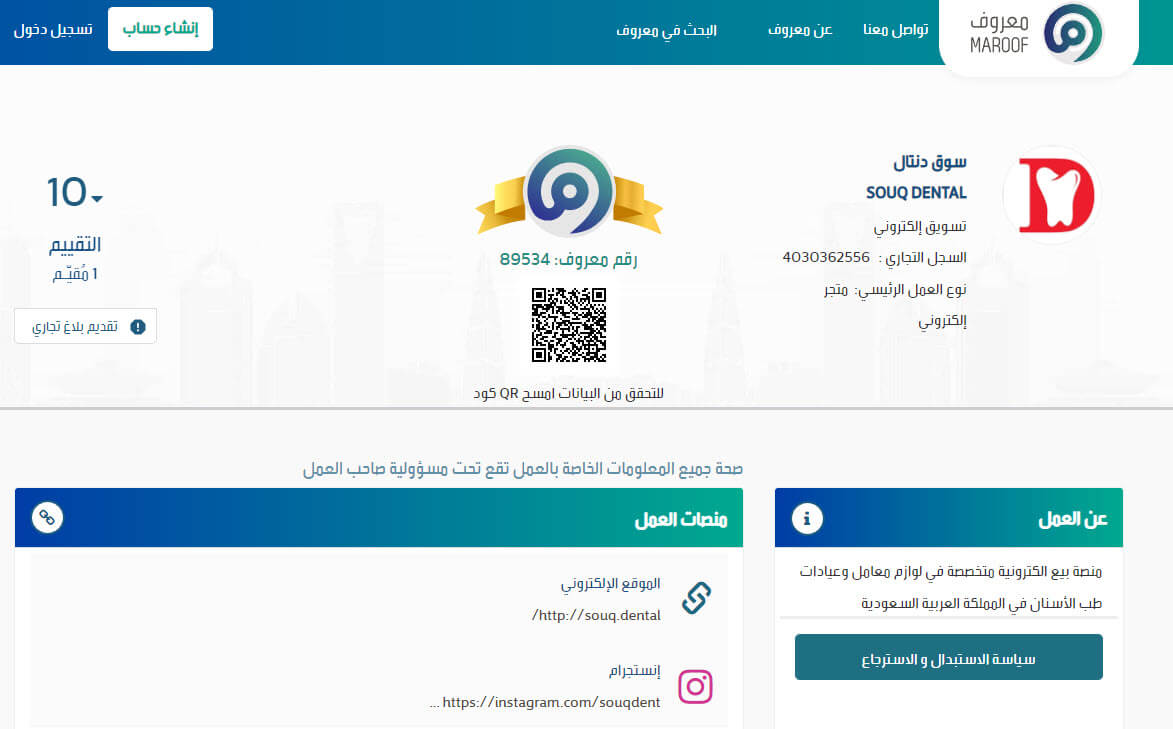 The Maroof website management system evaluates stores and grants them certain privileges if they meet specific criteria. These criteria include registration and authentication of the store's online platform and social media pages, adherence to commercial regulations and consumer protection laws, and obtaining a certificate of authenticity from the Ministry of Commerce and Investment.
Fulfilling Obligations for Saudi Online Store Owners
Saudi online store owners have certain responsibilities they must adhere to in order to run a compliant and trustworthy business. These include:
1- Displaying Business Information:
Displaying their name, address, contact information, and electronic commercial registration number prominently on the website, such as on the footer or an About Us page.
2- Protecting Customer Data:
Ensuring the confidentiality and protection of customer data by only collecting the information that is necessary for the sales process, and obtaining customers' consent to terms and conditions during registration.
3- Transparent Business Operations:
Providing details about the business, such as contract information and the merchant's operating procedures, on an About Us page or in the website's Terms and Conditions.
4- Product Transparency:
Providing accurate product or service descriptions, pricing information, delivery and payment options, and any guarantees offered on the product pages.
5- Clear Terms & Conditions:
Including clear terms and conditions for customers to review when they register on the site or make a purchase.
Prompt Delivery:
Delivering goods to customers in a timely manner, with a maximum delay of 15 days, after which customers have the right to a full refund.
Flexible Return Policy:
Allowing customers to return goods that do not meet their expectations, or to receive a replacement or refund within 15 days. However, customers cannot cancel the contract in certain situations, such as when the product matches the description on the online store, defects are caused by customer mishandling, or if the service or commodity can be consumed without physical proof (such as digital products, books, newspapers, etc.).
All in all, it's very important for the store owner to be transparent and clearly communicating about their business operations and commercial obligations. They should make it very clear for the customer how the store works and what their rights are.
Consequences of non-compliance: Penalties for eCommerce in Saudi Arabia
If you operate an eCommerce business in Saudi Arabia without obtaining the proper license for your online store, you are at risk of non-compliance with the country's eCommerce Law. According to articles 18 and 19 of this law, the consequences of non-compliance can include receiving a warning, being fined up to one million Saudi riyals, and having your website or online store temporarily or permanently blocked.
The competent committee has the power to make this decision. Furthermore, it's also possible to file a complaint with the administrative court, as stated in article 20 of the Saudi eCommerce Law. It's essential to be aware of these regulations and the potential consequences of non-compliance to ensure compliance with the law and avoid penalties.
Overcoming Challenges for eCommerces in KSA: Key issues to consider
The following are some of the main challenges faced by eCommerces in Saudi Arabia:
Language barriers:
Most online stores in Saudi Arabia are in English, with few exceptions like Noon and Amazon that are in Arabic.
High cost of creating an online store:
The cost of designing and creating an online store in Saudi Arabia is higher compared to other Arab countries, due to the cost of programming and marketing from local companies.
Lack of Saudi skills:
Technical difficulties due to the lack of Saudi skills in programming, marketing, and designing online stores, and reliance on foreign and Arab skills.
Difficulty in finding reliable developers:
You need to carefully research and inquire about them and see their previous work, or consider an outstanding Saudi group that can help program and design a complete online store.
Obligations to fulfill:
After obtaining a license for an online store in Saudi Arabia, it is essential to be aware of the obligations that the owner of the Saudi online store must fulfill.
Connecting eCommerce to E-invoicing
The first step, which begins on December 4th, is simply to stop using paper invoices or Excel/Word invoices. There must only be an electronic issuance of the invoice from the website's system or the accounting system connected to the website. The invoice should be in PDF format.
We will provide you with details before starting the second phase on the best solutions for automatically linking the invoice with the Saudi Arabian General Authority of Zakat and Income.
Q: Is DropShipping legal in Saudi Arabia?
A: To sell products through dropshipping in Saudi Arabia, you must obtain a business license. Failing to do so may result in fines. However, if you sell products to other countries through dropshipping, a business license is not required, even if you are a foreign national living in Saudi Arabia.
Q: Is it legal for a non-Saudi drop shipping store to sell to customers in Saudi Arabia?
A: Yes, it is legal for a non-Saudi dropshipping store to sell to customers in Saudi Arabia, as long as the customer pays value-added tax and customs duties.